The Webster Tigers football squad traveled to Wisconsin Rapids on Saturday, Oct. 9 for a non-conference match with the Assumption High School Royals. The Royals were coming off consecutive wins and had a 4-3 record on the year. The Tigers came into the game with a 3-4 record, having won the previous Friday over Ladysmith, 16-8. 
The game was a rare fall afternoon contest, and the Royals drew first blood, as Assumption scored early in the first quarter, taking a quick 7-0 lead. That would prove to be the only Royal points on the board. That Royal lead wouldn't last long, though, as Webster then went on to score two touchdowns of their own in the first quarter. The first Tiger touchdown was an 11-yard run by Gavin Rossow to make the score 7-6. The 2-point conversion run by Rossow was unsuccessful. Then later in the first quarter, Sawyer Winkler intercepted a Royal pass, running it back from about the 25-yard line before being tackled out of bounds on the 1-yard line. On the next play, Gavin Rossow ran it in for his second touchdown of the game to make the score 12-7. Once again, the 2-point conversion run by Rossow was unsuccessful and the score remained 12-7. There was no scoring in the second quarter so the score going into halftime stayed that way. In the third quarter, Webster quarterback Auston Sigfrids threw a 21-yard touchdown to Gage Rossow to extend the Tigers lead up even further, to 18-7. The 2-point conversion run by Gavin Rossow was successful, making the score 20-7. The score stayed that way until the 4th quarter, when Webster's Gavin Rossow threw an 82-yard touchdown to his brother, Kayden Rossow, to put the score at 26-7. The 2-point conversion pass by Sigfrids was unsuccessful. 
The Tiger defense held the score as it was, and Webster went on to win, 26-7.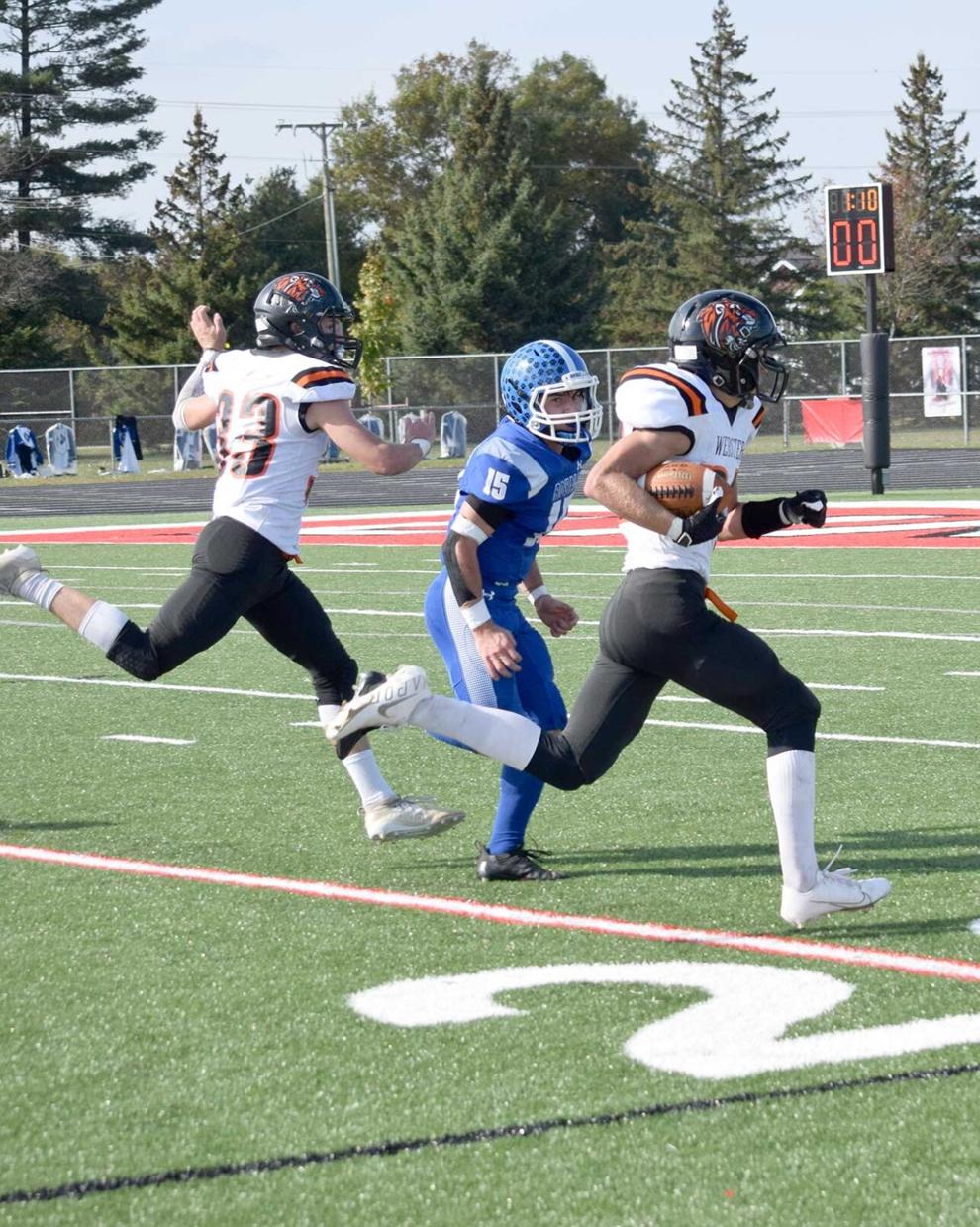 With the win the Tigers improved to 4-4 on the season. Because they are playoff eligible, Webster's next game will be determined by the playoff pairings, which will be announced in the coming days.  
Notable game stats for the Tigers. Passing: Auston Sigfrids - 7 of 12, for 91 yards and 1 touchdown; Gavin Rossow - 2 of 2, for 125 yards and 1 touchdown. Rushing: Gavin Rossow - 17 attempts for 53 yards rushing and 2 touchdowns; Sawyer Winkler - 5 attempts for 12 yards.  Receiving: Kayden Rossow - 4 catches for 146 yards receiving and 1 touchdown; Gage Rossow - 2 catches for 60 yards and 1 touchdown. Defensive notables: Gavin Rossow - 12 tackles; Sawyer Winkler - 11 tackles; 1 sack and 1 interception; Brady Madsen - 10 tackles; Brandon Emerson - 9 tackles; Ashton Erickson - 8 tackles.