Local Webster and Grantsburg Cross-Country runners enjoyed a perfect day for the Lakeland Conference meet on Tuesday, Oct. 12 in Clear Lake. It was an especially good day for the Pirate runners, as the Grantsburg boys and the Grantsburg girls both brought home championship trophies. In total, 13 Grantsburg boys and girls earned All-Conference honors. 
Pirate senior Will Gerber set a career personal record (PR) with a time of 16:07.7 and placed first in the boys race. Senior Chase Doornink placed second with a season PR. The boys team continues to look strong with most earning  PR's in the conference meet. According to Pirate head coach Natalie Doornink, the top five points earners for Grantsburg proved that they are ready to go into tournament race time with focus and intention. 
"The girls team has shown that they are strong runners and building confidence," Doornink said, pointing to the top female runner for the team, freshman Noelle Doornink, who placed fourth overall with a PR of 21:30. Fellow freshman Eliza Paulson continues to develop and be at the front of the pack.
"The entire girls team showed up ready to compete and earned their conference title," Coach Doornink said. "Both the boys and the girls teams have prepared for tournament time - their off-season dedication and in-season training commitment have made them excel." 
Doornink said they are focusing on the WIAA Sectionals in Phillips this coming Saturday, Oct. 23. 
"This group is ready to race to the best of their ability and to be the best they have trained to be," she added. "I am incredibly proud of both teams. This is a sport that takes hours of commitment and your round running dedication to be successful … and requires mental and physical perseverance each and every race."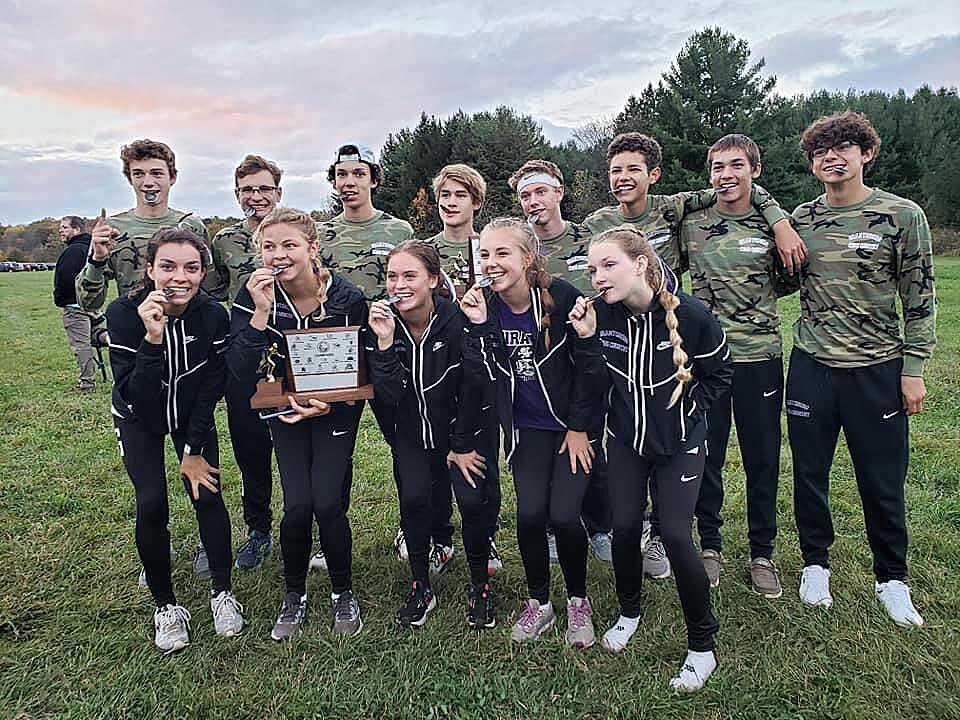 The Pirates head to Sectionals this Saturday in Phillips, with a continuing post-season road trip for those who qualify will compete in the State Meet, which is held in Wisconsin Rapids on Saturday, Oct. 30th. 
The Webster Tigers also competed at Clear Lake last week, and Webster head coach Roy Ward had nothing but positives for his team:
"The Tigers ran great. Really a fun meet to watch as they ran with such tenacious spirit. Big meets like this one bring out big performances," Ward said. "Always fun to see personal best performances."
The Tiger boys ran first, only missing one team member, Ben Pardun.
"Caleb (Smith) came in first for the Tigers and 24th overall with a season best time of 20:37. AJ (Flatten) had a great race, coming in 28th with his best time of the year of 21:08," Coach Ward said. "Webster's third runner, Josh (Smith), didn't PR, but ran a nice time of 22:16. Brock (McKinley) was back after resting a hip flexor injury. He ran his best time of 22:45. Adin (Treague) battled against his teammate, Nathanial (Macomber), for season best time of 23:02. Nathanial ran his best time 23:11, which was four minutes faster than his previous Clear Lake race. Nice running HS boys," Ward added.
The Tiger girls followed, with Felicity Lamb continuing to be the top Lady Tiger runner.
"She (Lamb) finished 22nd with a time of 25:49. Morgan (Johnson) was 26th with 26:29. Dahlia Dorn, AKA Dillipiahdueha, finished with her season best time of 29:05. The real inspiration is credited to Ari (Gustafson), who beat her sophomore best time of 46:24! I heard lots of people give her accolades which were certainly well earned and deserved. Proud of you ladies," Coach Ward stated.