Two years ago, Nov. 8, 2019, Burnett County Sheriff's deputies enlisted the assistance of two members of The Humane Society of Burnett County on a call about two abandoned dogs in a house.
When they arrived, a window was broken to allow entry. The only person small enough to fit through the window was Carrie, HSBC's lead Kennel Tech. None of the people knew what they were getting into. Were the dogs friendly? Was the house safe? Could Carrie get to a door to let in the deputies? None of this mattered to these saints.
Information had been provided that two dogs had been abandoned in the house for three months without food or water. After that long would they both still be alive? Severe hunger can do strange things to an animal's mind as well as their body.
What they found was shocking: Tally - formerly known as Darla – was a hound mix, but just skin and bones, weighing only 16 pounds. Petey, an American Pitbull Terrier, faired a little better weighing in at 32 pounds. In the days that followed it was discovered he had eaten several types of plastic as he tried to find something, anything to eat.
They rushed the two emaciated pups to the Grantsburg Animal Hospital, where they were checked over and given their first real food in three months. This is also where they got their new names to go with their new lives: Petey and Darla, from 'The Little Rascals.'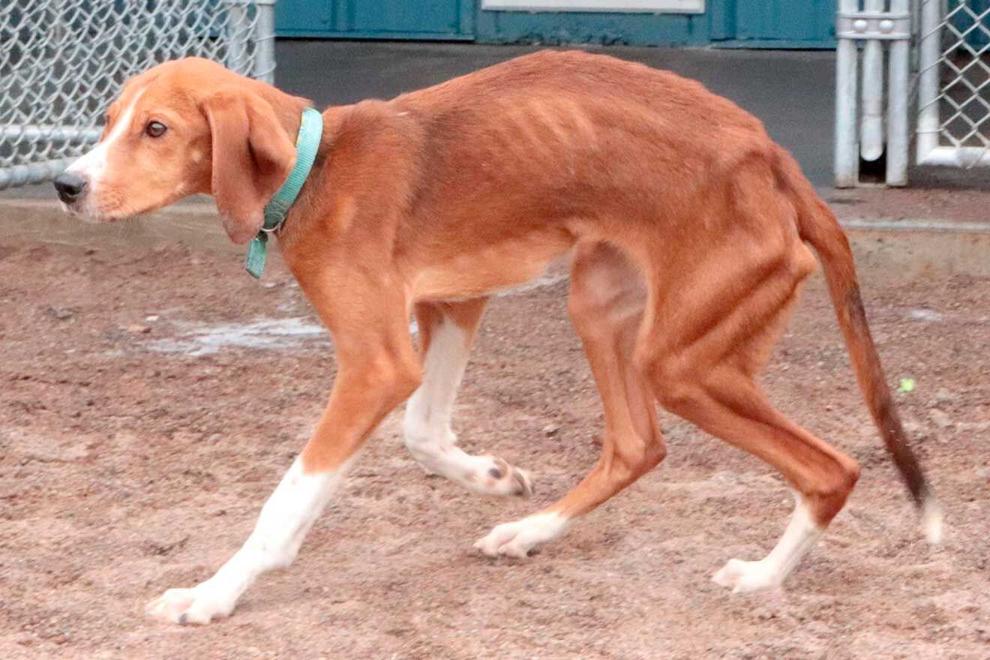 When instances like this come up there is a 30-day legal hold on the animals, as the case works its way through the court system. During that time Tally was fed small amounts of food every four hours, around the clock, to help her put on some much-needed weight. It took her months to get to her proper size.
The call was put out to the community to help with the added cost of saving and helping these two very sweet pups recover. Facebook posts, news articles, a spot on the news out of Duluth, were all essential to raising over $3,400. The public was very angry at the condition of these dogs and extremely concerned for their wellbeing.
This is where I finally come into the picture: I saw the social media post. Like everyone else I was very angry that anyone could do that to a dog or any animal. I had just lost one of my dogs, Hershey, she had passed while I was at work, laying on her bed. Since I've only had rescue dogs, what better way to honor Hershey than to step up and make sure these two got the loving homes they deserved. So, a payment for both adoption fees was made, a preadoption questionnaire was filled out and it was a waiting game until one of them came home with me.
The staff let me visit them before the legal hold was up. My adoption was approved. I would get my choice of which one I came home with me, or more accurately, my other dog, Harley, would get to pick.
On Dec. 20, 2019, the big day arrived; Harley was no help in determining which pup would come home with us, he liked them both. I was still undecided and could only resort to my experience with dogs to decide to bring Petey home. Being a Pitbull would make it a bit harder for him to find a home. Future issues from his ordeal may show up and require an experienced hand.
In the long run it was the right choice. It broke my heart to leave Darla behind but at the time I could only have two dogs. She couldn't go anywhere yet as she still needed to gain more weight.
On Jan. 2, 2020, a social media post was put out on Darla. She was approaching a healthy weight and finally ready for adoption. I put in my two cents worth on what a sweet pup she was, and was asked by one of the posters to check my private messages. It was Darla's future mom! On Jan. 11, Darla became Tally May and got the home she was meant to have.
It's been two years since Petey and Tally were rescued. They get to see each other from time to time and always act like they've never been apart. Petey is a very healthy 55-pound goofball and Tally is a stunning 64-pound beauty. They have become minor celebrities at the Burnett County shelter because of their history and personalities. Petey also helps me write the Weekly Wag from time to time.
From a horrendous start in life to being two extremely happy, healthy, and loved family members. Dogs do dream and for these two, their dreams came true.