Siren Police Chief and District 12 County Board supervisor Christopher Sybers, 54, has been charged in Burnett County Circuit Court with 4th Degree-criminal sexual conduct for an incident that allegedly occurred at a Siren tavern last November.
The allegation first came to light with the Burnett County Sheriffs' Office (BCSO) in July, with belief that the incident occurred at the Pheasant Inn, when Sybers is alleged to have groped a woman inappropriately, and even reportedly admitted to the behavior - leaving cash for her as compensation.
Due to conflict of interest concerns, the investigation is being handled by the Polk County Sheriff's Department, and is also being prosecuted by Polk County assistant District Attorney Holly D. Wood-Webster. If convicted of the misdemeanor charge, Sybers faces a possible nine months in prison and/or up to a $10,000 fine.
According to the criminal complaint filed in Burnett County Circuit Court, the incident came to light for BCSO officials on July 7, with Polk County authorities handling the investigation, which began the next day.
During interviews with the alleged victim and witnesses, they believe the incident took place around Thanksgiving in November 2020 at the Pheasant Inn in Siren.
It was around 9:30 p.m. when Chris Sybers came in, wearing street clothes.
The alleged victim said she was nervous upon seeing Sybers, because she was known to him as being in law enforcement and concerned as she was on probation at the time. She said others at the bar were nervous for similar reasons when he came in, although Sybers reportedly tried to ease their fears by saying they didn't have to worry, " …I'm just a regular person today."
About a half-hour later, the alleged victim went to play music on a jukebox when Sybers came over to her and engaged her in a conversation, saying he was proud of her for changing her life.
It was during that exchange when Sybers allegedly asked the victim if he could hug her, which she said he could.
However, during the hug, Sybers is alleged to have reached down and squeezed the woman's buttocks, which the victims' boyfriend witnessed and immediately confronted Sybers about.
The woman was able to get her boyfriend to settle down and asked him to let it go, as he did not know Sybers was the village police chief.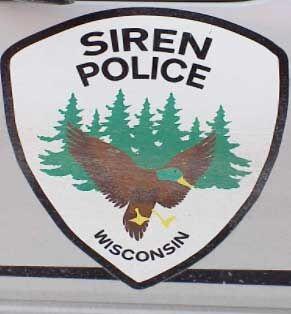 According to the narrative, it was a short time later that Sybers then approached the alleged victim while she was sitting at the bar and placed "a wad of money" on the bar for her - somewhere around $50 in cash. He is alleged to have slid the cash toward her while telling her it was "…for grabbing her butt," and he walked away.
The woman said she was very uncomfortable with the incident and Sybers' actions afterword, giving some of the money to the bartender as a tip and keeping the rest.
In the complaint, the bartender recalled seeing the confrontation and filming part of the incident on her phone, but it sounded like she had recorded the confrontation between Sybers and the boyfriend, not the alleged buttocks grabbing prior.
However, the bartender reportedly told the victim that she had seen Sybers behave like that around her, in the past, although it was unclear if she meant he had also acted that way toward her or if she had seen him act that way around other women.
Chris Sybers is slated to appear in court for an initial appearance on Nov. 10 before Judge Melissia Mogen, although it is unclear if he will file for judicial substitution, due to possible conflicts of interest.
Sybers is also the second vice chair of the Burnett County Board of Supervisors. He did not appear at the most recent full County Board meeting on Thursday, Oct. 21 – two days after the charge emerged - with Chair Don Taylor saying he was "excused" from attending.
Sybers has also been a candidate for Burnett County Sheriff, and according to past interviews, he has worked for that office in several capacities, from transport to jailer and in dispatch, while also working part-time for several area police departments.
Village Board addresses allegation
Chris Sybers has been the Siren Police Chief for over 20 years.
The charge filed against him was addressed by the Siren Village Board on Friday, Oct. 22 in a special session, three days after the case was filed, apparently to consider his status as police chief and ongoing employment status. According to minutes of the village meeting, the board met in closed session for approximately 45 minutes, and later addressed their concerns in open session.
Prior to a vote, the village board pushed to essentially stay on the sidelines, officially noting in their motion that they "feel sorry for what happened," but that they also "wish Sybers the best of luck" as they allowed him to stay on as chief, with no penalties or suspension.
However, it was noted that if Sybers is found guilty "of something serious … that is another issue," but they will have Chief Sybers continue his duties as is.
The motion carried unanimously.
In spite of the support, Siren Village President Dave Alden recommended that going forward, Sybers must have his body camera on at all times, while on duty.
Chief Sybers did not to respond to a Sentinel request for comment.