Gage Rossow returned an interception for a touchdown in the first quarter and the Webster Tigers never looked back in their first win on the road this season against conference foe Flambeau.
"Any time that you can get a score on defense it is a huge momentum swing. It was a shot in the arm that we needed at that point in the game," Webster coach Andy Smith said.
Rossow was able to intercept the pass and take it 65 yards for the first points of the game. After a failed two-point conversion, the Tigers did not waste time and CJ Abbas rain in a seven-yard touchdown run in the second quarter.
This time the two-point conversion was a success with quarterback Auston Sigfrids finding Evan Sikorski to make the score 14-0.
Abbas and Sikorski combined to rush for over 100 yards Friday night. Smith said those two run "hard behind another nice night from our offensive line. They are a running backs dream to run behind."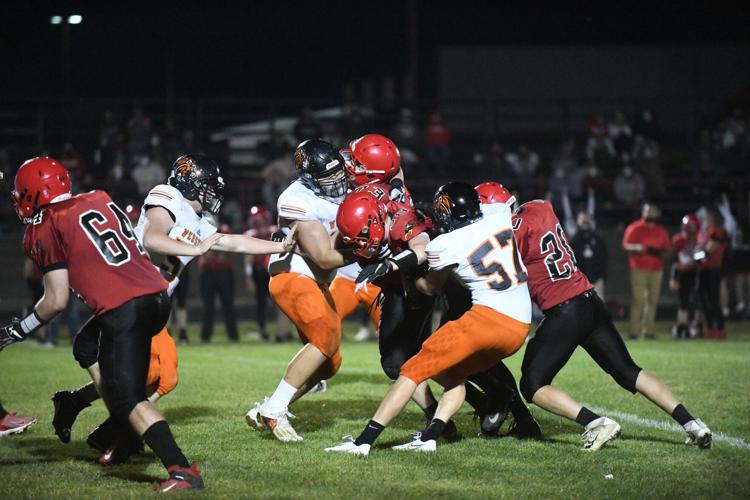 Flambeau put their first points on the board just before halftime with a touchdown pass, but were unable to convert the two-point conversion. Going into halftime the score was 14-6.
When the second half started, the Tigers picked up right where they left off. Sigfrids threw a touchdown pass for 37 yards to Mason Gustafson. The team once again converted the two-point opportunity.
On the next drive Abbas ran for another touchdown. The Tigers made the extra point and took a 29-6 lead going into the fourth.
The only scoring in the fourth came from a Flambeau touchdown run and a successful two-point conversion, making the final score 29-14.
"This was a nice win, but we still have lots of mental errors that need to get fixed in order for us to reach our full potential," Smith said after the game. "This will be a real focus this week in practice."
This week the Tigers take on Lake Holcombe/Cornell.
Smith noted, "Defensively we need to match Lake Holcombe/Cornell's intensity and find a way to get all 11 to the football in order to win this Friday."