In January 2021 the gray wolf will no longer be protected by the federal Endangered Species Act. The U.S. Fish and Wildlife Service recently made the announcement about the wolves how had been on the list for over 45 years.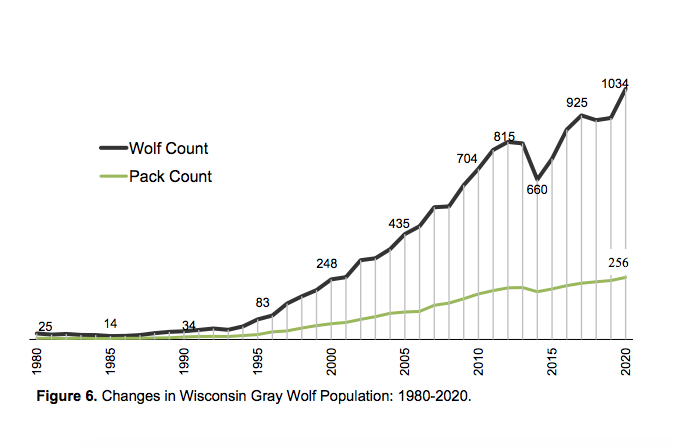 "The gray wolf has exceeded all conservation goals for recovery," said David Bernhardt, Secretary of the Interior. "Today's announcement simply reflects the determination that this species is neither a threatened nor endangered species based on the specific factors Congress has laid out in the law."
According the U.S. Fish and Wildlife Service, "the gray wolf population in the lower 48 states is more than 6,000 wolves, greatly exceeding the combined recovery goals for the Northern Rocky Mountains and Western Great Lakes populations."
The Western Great Lakes wolf population in Michigan, Minnesota and Wisconsin is strong and stable. Management of the wolf will return to state authorities – the Wisconsin Department of Natural Resources (WDNR).
"The WDNR welcomes the responsibility of again managing wolves in Wisconsin," WDNR said in a press release. "The department has successfully done so for decades and will continue to follow the science and laws that influence our management. All wolf
management, including hunting, will be conducted in a transparent and deliberative process, in which public and tribal participation will be encouraged."
WDNR keeps track of wolf depredation or attacks in an online database going back to 2015. These reports keep track of animals killed, harassed or threatened by wolves and also keep track of humans being harassed or threatened by wolves.
In 2020, there have been 11 reports from Burnett County. Of those most deal with cattle, sheep and hunting dogs being killed by wolves. There were also two reports filed by Health and Human Services about two people harassed or threatened by wolves.
In 2015, 8 reports of wolf depredations; 2016 – 6 reports, 2017 – 7 reports, 2018 – 5 reports, 2019 – 17 reports.