There are two options for a new jail in Burnett County. An architecture firm gave two estimates spanning between $15 million and $21 million for a potential new jail.
The public safety facility committee began meeting in late 2019. Their goal was to take a look at the current jail, sheriff's office and health and human service facilities and then make a plan following an analysis put together by BWBR, an architecture firm out of St. Paul.
Both options would have a pod setup for the jail instead of a linear setup which is what the jail currently has in the jail that was built in 1983.
A pod setup would have a centralized control room where jailors can see the inmates with the cells surrounding the control center.
Option 1 for a new jail would include new jail housing, updated sheriff offices including a new lobby and jail administration building, and updated health and human services offices. The estimate came in at $21,101,000.
The second option is similar but would not include the expanded sheriff offices or the public lobby. That estimate was for $14,992,000.
Both options would require the new facility to be built northwest of the Government Center and would also require a re-configuration of the parking lot.
BWBR representatives told the County Board that they believe these prices are the "maximum amount" the county can expect to spend. They include construction costs, furnishing costs and contingency costs.
Supervisors realized that the construction costs are easy, the difficulty will be with keeping the facility maintained and employed.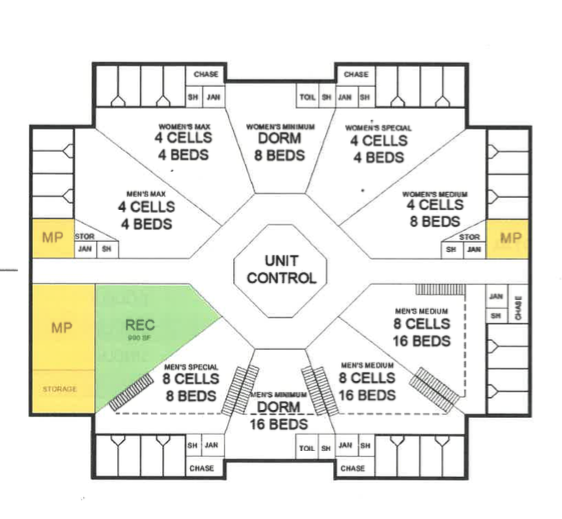 BWBR put together an executive summary on the current jail. They described the facility as "antiquated" and "inadequate to meet the needs of growing population."
The Burnett County Jail has 26 beds. The population often exceeds 50 and Sheriff Tracy Finch said before the virus they were averaging 70-80 inmates.
The transportation costs associated with inmates being housed in separate facilities across the region has been rising over the last few years. Anytime an inmate is housed of the county and has a court date coming up they have the right to be in the courtroom in person – even if it is just for a status conference that may take five minutes.
Jail Administrator Mark Schmidt has told the public safety committee on numerous occasions that inmates, "like getting out and going for a ride."
Burnett County spent over $250,000 in 2018 for inmates out of county costs, according to Sheriff Tracy Finch. In early 2019 Finch explained to the public safety committee that they went almost $30,000 over their budget.
She said they were budgeted for $210,000 in out of county costs in 2018 and spent $259,437.
"But if we follow this trend, it's going to cost us around $400,000 in total for 2019," Finch said last year.
Finch told the Sentinel the sheriff's office in 2020 has spent over $200,000 which includes transportation costs.
Sheriff Tracy Finch said that another part of housing is transportation of inmates to and from Burnett County. Burnett County has inmates in Barron, Douglas and Polk County. They sometimes use Bayfield County Jail which is about a 235 mile round-trip.
Those longer trips require two officers for transportation. In 2018, according to Finch, Burnett County Sheriff road deputies did 61 transports and correction officers did 2017 transports.
The next step in the process is sending the public safety facilities analysis to the infrastructure committee and get their input.