State Senator Tom Tiffany is making his way around the region as he continues his campaign to fill the seat of Sean Duffy in the U.S. House of Representatives.
Duffy resigned from his seat in Congress last year and Gov. Tony Evers has set the primary election for the race to be held on Feb. 18 with the general election May 12.
Tiffany is up against republican Jason Church. Church has worked as an aide for U.S. Senator Ron Johnson.
Last year, Church said at an event in Grantsburg that he has always supported President Donald Trump and told the crowd Tiffany is not as supportive as he is.
Tiffany sat down with the Sentinel last week and said he does not agree with that statement.
"I supported Scott Walker for President when the 2016 race began," Tiffany stated. "I don't know who Church supported at the beginning, but I fully supported Trump as soon as he was made the nominee."
Tiffany is in favor of securing the country's border with Mexico.
"Yes, we need to build the wall," he said. He added he was in favor of using technology to also secure the border and said the crux of the meth crisis is "not having secure borders."
He said the need for a wall will not just be a positive for limiting the amount of meth in our region, but it will also cut down on sex trafficking taking place at the border.
Tiffany also believes the idea of Medicare for all will lead to "Medicare for none."
He said he is an advocate for forestry and the National Forest. He also thinks the country should have a better rail service.
"A better rail service in this country will have a great effect on northern Wisconsin," Tiffany said.
When asked about the highly partisan climate in Washington D.C., Tiffany said he is ready to take his bipartisan principles to the nation's capital.
"I have worked with both sides to have substantial reform over my time in Madison," Tiffany said. He said 80-90% of his work in Madison has been done with bipartisan support.
"And I did that without selling out my principles."
Tiffany is from Elmwood, Wisc. and graduated from UW-River Falls with a degree in Agriculture. He and his wife, Christine, operated Wilderness Cruises near Minocqua, Wisc.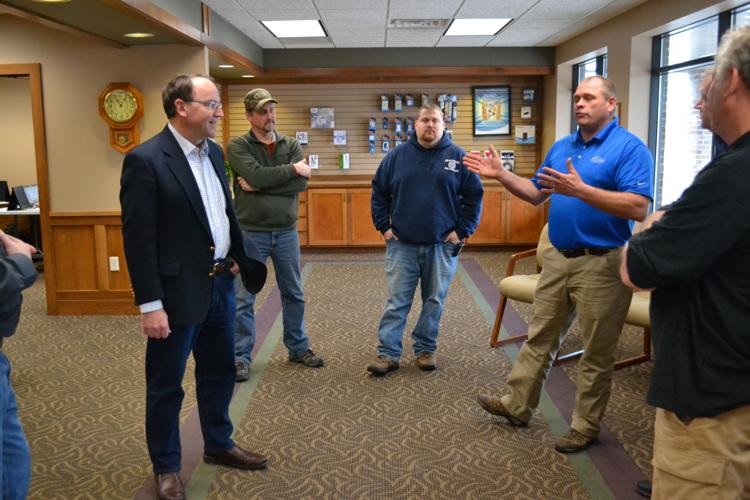 "I have a farm background," Tiffany said. "I understand the pulse of farmers and these smaller communities."
He said that background has prepared him to "take the reins from Duffy." Tiffany was endorsed by Duffy the week before Christmas. He has also been endorsed by Govs. Walker and Tommy Thompson along with a number of other elected officials including state representatives Gae Magnafici and Romaine Quinn.