On a recent Friday afternoon, Grantsburg fourth graders learned to play the challenging game of chess in less than an hour.
A new tool helped bring the ancient game to life for the 10-year-olds.
The trick to engaging them was an oversized set called "Mega-Chess." Its 24-36" pieces and 8x8-foot game board are big enough that kids can walk among the pieces. The whole class got involved.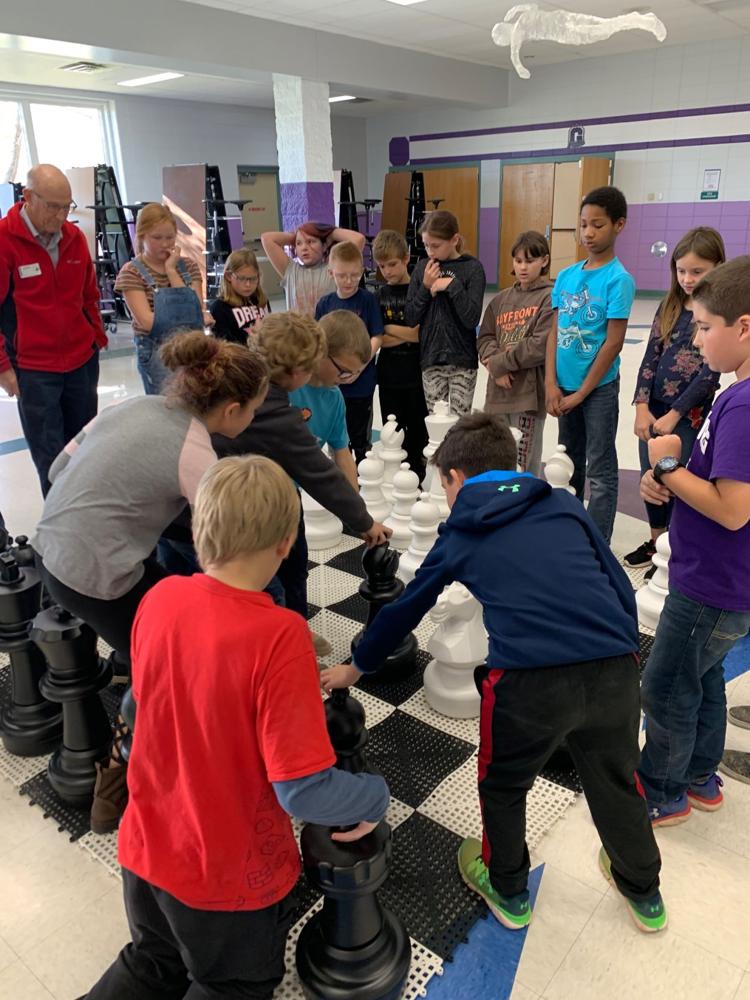 For the learning session, the game was set on the tiled floor in the Middle School commons. On nice days, the all-weather set will go outdoors for games on sand, grass or concrete, perhaps even snow.
Krista Kielty volunteered her 24 fourth graders as the first class to play Mega- Chess. Earlier, she prepared her students by discussing the game's 1,500-year history, its rules of play, and by showing a video of other elementary-age students playing chess.
John Hunt of Grantsburg has volunteered as the Grantsburg Library Chess Club instructor and leader for six years. The club meets after school on Wednesdays from January to March at the library. The club attracts both public school and home school participants. Parents and other adults are mentors and players.
Hunt pitched the Mega-Chess idea to the Friends of Grantsburg Library as a faster way to learn, and the Friends purchased it for the library.
Hunt's theory proved true in the first outing. He spent the first half hour explaining the pieces and their moves, how to capture pieces and win the game. The students then divided into two teams of 12 and pooled their knowledge to play one game of chess involving the entire class.
Steve Briggs of Grantsburg assisted Hunt to transport the equipment and teach chess. Briggs leads a chess club at the Frederic Public Library. It meets at 3:30 p.m. on Thursdays.
"I was impressed at how quickly John could teach the game and how excited the kids were," Briggs said. "At the end of play, someone asked how many liked chess, and every student's hand shot up."
Hunt hopes to take the large chess set to other grades at Grantsburg schools and also to area schools who invite him. A retired 3M engineer, Hunt learned chess as a youth and played in his high school's club.
"In many states including Wisconsin, chess is a school-sanctioned activity," Hunt said. "I firmly believe chess improves concentration, strategy and decision-making," he added. "Studies show playing chess raises a child's IQ. It also teaches etiquette and how to be a gracious winner or loser. Games begin and end with a handshake."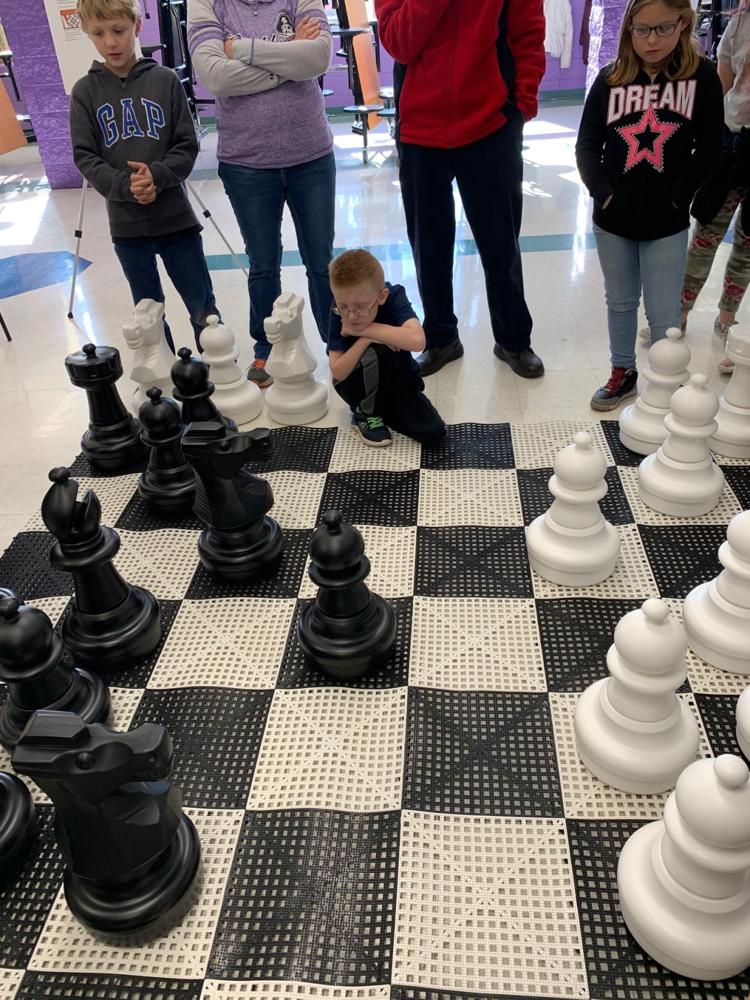 Mrs. Kielty said her students are so enthused that she plans to add one or more standard, tabletop chess sets to her classroom.
Both Grantsburg and Frederic Library chess clubs are free and open to all students.
Other schools and groups that would like to play chess on the mega set are invited to contact Grantsburg Public Library to make arrangements. There is no charge for the activity, but the library welcomes donations.