The Siren school board passed a resolution Monday night that will allow them to move forward with their $4,000,000 referendum project for improvements to the school.
The board is expected to invest the money after receiving the funds. Lisa Voisin of BAIRD told the board they are expected to make $12,000 every month on their investment.
Board trustee Mark Pettis asked Voisin, "what can we do with those funds?" Voisin explained the board can do anything with those funds that fall under the umbrella of the referendum.
She assured the board the attorneys writing referendums usually write them in broad terms to allow for flexibility in the projects. 
Voisin said the funds will be available May 20. They have three years to use the funds.
Sticking with the referendum the school board is hoping to start earlier next year so they can begin construction on the school as early as possible. 
Associate Principal for the High School and Middle School, Darrell Imhoff, came up with a plan that the school hopes the Wisconsin Department of Public Institution (DPI) approves.
The school hopes to start the 2019-2020 school year before Labor Day Aug. 26 and be done with classes May 20.
The board also continued their discussion on outside organizations using the school facilities. The proposed figures were $600 for a full day using the school and $300 for a half day. 
School board president Peggy Moore said any group that uses the school's facilities for regular use or more than one or two times a year will be subject to these costs.
The budget and finance committee is expected to discuss criteria for the proposed fees at their next meeting, May 15.
All Siren principals talked about wrapping up testing. Carrie Herman, elementary school principal, is still getting ready for summer school. They currently have 95 students enrolled, but that number is expected to rise. Last year they had 120 enrolled in summer school.
Imhoff gave the board an update on their GED boot camp being held through WITC. 
"We expected 12 people to come and ended up with 18," Imhoff said. "So that's going well."
The Siren Band received $500 in donations from various organizations. The VFW and the Dave Hall family both donated $100 and the Lake Country Riders donated $300.
Siren band director Bryn Anderson accepted the three donations and announced next year's fall play will be Cinderella.
"It will run Nov. 15, 16, and 17 next fall," Anderson told the board. "We did it 15 years ago, so we'll give it another shot."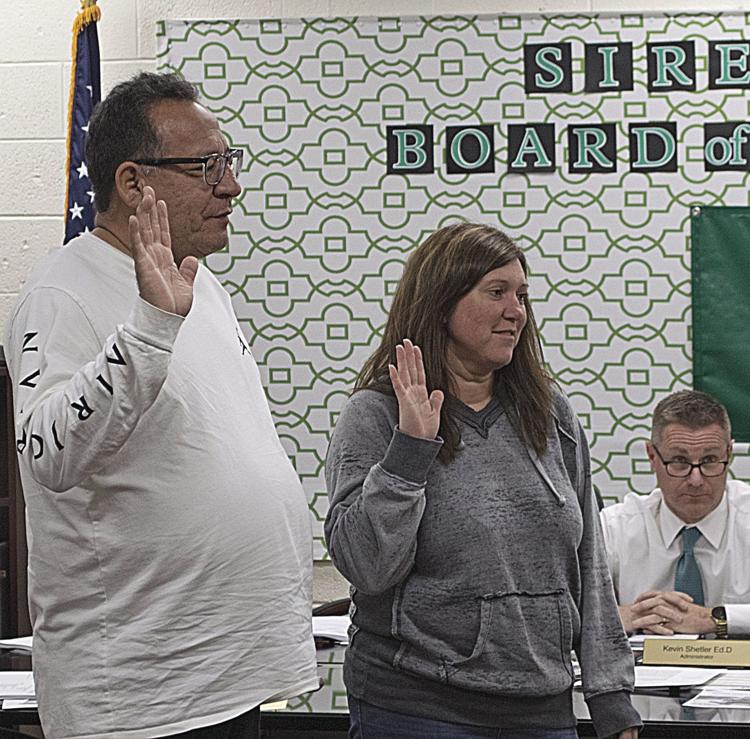 Duane Emery and Rhonda Highstrom were re-elected to the school board following the April election. They were both sworn Monday night. The board then organized the school board officers.
Moore was nominated and selected to remain school board president. Pettis will serve as vice president. Emery will be board clerk and Susie Imme was nominated and will serve as board treasurer.