A pair of Republicans came through Burnett County recently to announce their campaigns in two different races.
Rob Stafsholt was at Brickfield Brewery on Wednesday to meet with constituents and shake hands. He is running for the 10th District State Senate seat.
Stafsholt told the crowd of about two dozen that he plans on representing the people of northwestern Wisconsin and not Milwaukee and Madison. He made a brief speech at the brewery following a few conversations with residents on the issues they are facing.
He said his roots are firmly in Wisconsin as a fourth-generation farmer. He added that the current representative State Senator Patty Schachtner has done nothing in Madison besides vote with democratic governor Tony Evers and other Madison liberals.
Stafsholt continued to rail against Evers and decisions he has made with tax dollars. He referenced $15 million for local roads and instead spent them on a transit trolley in Milwaukee.
He concluded his speech by saying he looks forward to shaking as many hands as possible across the region leading up to the election.
He joins fellow republican Cherie Link for the primary election on Aug. 11, 2020. Link announced her campaign earlier this year in August. The winner of the primary will go up against State Senator Schachtner.
Schachtner won the seat in a special election last year beating former State Rep. Adam Jarchow after former State Senator Sheila Harsdorf resigned the seat to work for the DATCP (Department of Agriculture, Trade and Consumer Protection) for former Gov. Scott Walker.
State Senator Schachtner's office confirmed with the Sentinel she will be running for re-election and at this time does not have any challengers on the democratic side of the ballot.
On Thursday evening Jason Church was at T-Dawgs Bar & Grill for a meet and greet with potential voters. Church is running for the 7th Congressional seat for the U.S. House of Representatives seat vacated after Rep. Sean Duffy resigned earlier this year. He currently works in U.S. Senator Ron Johnson's office in Northern Wisconsin.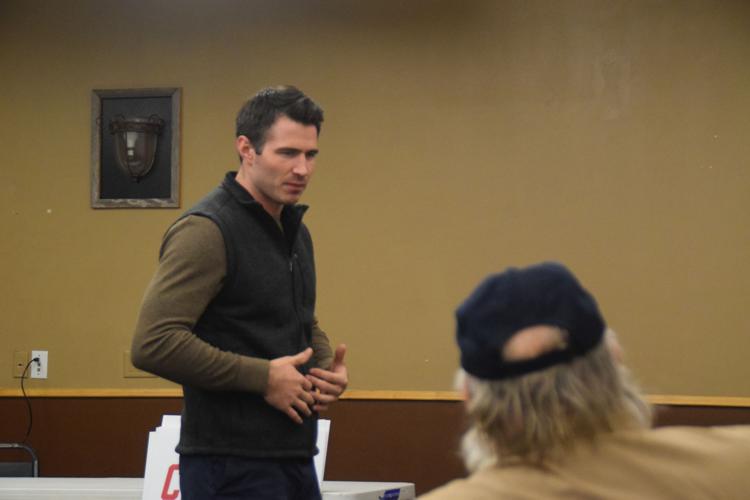 Church is facing a number of challengers on the republican side including State Senator Tom Tiffany and businessman Michael Opela.
Lawrence Dale and Tricia Zunker are the democratic candidates having announced earlier this year.
Church had an in-depth conversation with an intimate group of voters. He spoke on a number of topics including his time served in the Army in Afghanistan.
"It was August 23 when, boom! An IED exploded right underneath me."
Church lost both his legs and spent months recovering.
Another cornerstone of Church's campaign is he has always supported President Donald Trump.
He stands with the president on the need for a border wall along the southern border and the need to keep China in check on matters of trade.
The primary for the 7th Congressional race will be held on Feb. 18 and the general election will be held on May 12, 2020.