GRANTSBURG––This hasn't been a fun week at Luther Point Bible Camp. Misguided rumors about the camp hosting Muslims have rattled the camp's leadership.
The camp has received many negative letters and been targeted in multiple Facebook posts because of an upcoming retreat for the Muslim American Society of Minnesota.
Some online posts have told the camp to take the cross out of its logo and condemned it for hosting people who are not Christian. An article, published by the Inter-County Leader, filled with untruths and inaccuracies further stoked tensions. It has been shared over 180 times and got responses from groups across the country.
Jan Hermann, president of Luther Point's board of directors, said groups and online comments scare her and the accusations against the camp make her very sad.
"It hurts my servant heart," she said. "I think about the ministries that we work and want to promote. To have hate taint any of that, it hurts."
Sam Campeau, Luther Point's executive director, said the camp's board voted 20 years ago to allow the Minnesota group to host an annual retreat at the camp. He said the board remains united in its support. One member has even flown missions in Afghanistan, and he is adamantly in favor of continuing the camp's relationship with the Minnesota Muslim organization.
Campeau said the camp fears what extremists might do in light of the article.
"The Muslim American Society is going to have to hire private security because of this article now," he said.
In a public letter responding to the controversy, Campeau and Hermann wrote that by hosting the Muslim retreat, Luther Point is "showing God's love for our neighbors, providing Christian hospitality and a safe space and time for the Holy Spirit to work.''
The Muslim American Society of Minnesota began using Luther Point off and on 19 years ago. For the past five or six years, the group has come annually for family camps and retreats. Campeau said the camps are much like every other camp at Luther Point: The kids love to fish and boat and "were very excited about s'mores."
He said the group respects the camp and recognizes it as a spiritual, sacred place. They never take down or cover up Luther Point's crosses or other religious symbols.
"I have been present for their calls to prayer," Campeau said. "It's very calming and spiritual."
Jay Ticknor, pastor of Bethany Lutheran Church in Grantsburg, is frustrated that misinformation about the camp at Luther Point has "blown up all out of proportion'' in response to the article.
"Like so many things, it blows up so quickly with bad information," Ticknor said. He added, emails and Facebook posts share untruths quickly.
What sparked the current controversy was a Facebook post inviting people to an upcoming retreat called the "2019 Midwest Tarbiya and Activism Camp." The unfamiliar words ignited fear and hatred among some in the community. None of the letters contained threats, but the camp did contact the Burnett County sheriff to let her know what is going on.
One woman wrote that the camp had become a "devil's arena."
The article, which has since been pulled and highly edited when re-posted, pointed to disturbing videos posted from a May incident in Philadelphia. It showed children singing a song containing explicit lyrics.
After investigating what happened, the Muslim American Society's national organization in Washington swiftly condemned the disturbing video and determined that a school organized the event and rented space from the MAS Philadelphia group. The school fired the person in charge of the program, and MAS itself adopted measures to make sure that groups renting its property will never again be able to host such an event.
"MAS' deep commitment to values of peace, justice, freedom and sanctity of life are clear," the national group said. "As a faith-based organization committed to building a just and virtuous society, we stand strong in our condemnation of hate and violence anywhere, even in the lyrics of a song."
The website article from the Leader also alluded to a Wisconsin camp that hosted a Chicago Muslim group in 2003. The article implied that this camp was Luther Point. Campeau said Luther Point has never rented space to the Muslim American Society, Chicago.
"The Chicago Tribune article written in 2004 and used as a source for the article written by Eddie Emerson for the Inter-County Leader does not site Luther Point as the location," Campeau said. "Eddie Emerson implies this is the case, but there are no facts supporting this."
The Muslim American Society of Minnesota denounces radicalization of all forms, said Imam Asad Zaman, the group's executive director. He said no member of his organization has ever been radicalized.
Zaman said, "the mere act of teaching Islam" fights against radicalization. Islam simply does not allow it, and MAS makes that clear in its education programs.
Zaman, who gave the opening prayer for the 2017 session of the Minnesota Legislature, said the society and its member mosques put a lot of energy into combatting white nationalism.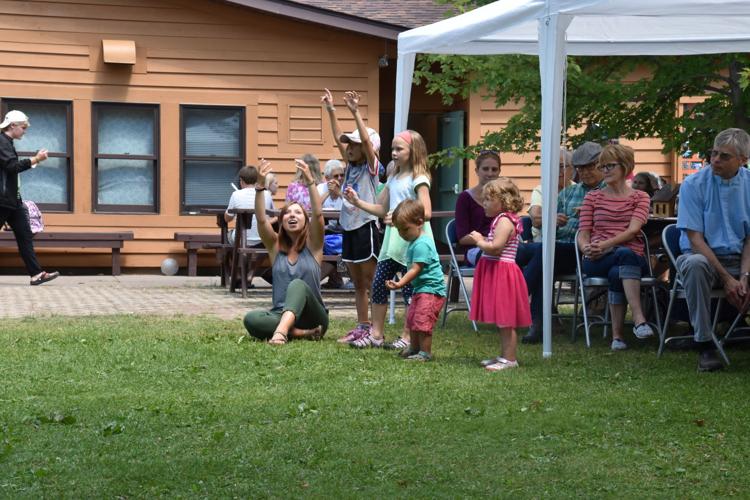 "The best way for people to understand each other is to interact with each other," he said.
The group seeks to build understanding so that people don't "otherize" Muslims.
Zaman said his members love Luther Point because the staff is very friendly and the camp has so many activities to enjoy.
He said the society has held the Tarbiya and Activism camp twice before at Luther Point in 2014 and 2015. Tarbiya is the Arabic word for "education," and the Activism portion of the title refers to being physically active through sports, spiritually active in their faith and socially active as citizens in our democracy.
"I don't know why when Muslims do mundane things, they become a big deal," he said.
The camp consists of morning exercise, lectures, meals and prayer. Zaman said the family camp is very laidback and relaxing. The youth camp is much more rigorous, with a lot of exercise, hiking and climbing the ropes course.
Though Zaman has never been to a Lutheran youth camp, he said he doesn't think it would be much different. The goal is the same.
"We want them to be rejuvenated in their spirituality after five days of camp," he said.
The upcoming retreat is intended for young people ages 18 to 28. He said people in this age group tend to need more grounding in their faith.
Campeau and Hermann, Luther Point's executives, wrote that "by welcoming our Muslim brothers and sisters to rent the facilities at Luther Point Bible Camp, we are living (Jesus') commandment to love one another."
"We must start building bridges with our neighbors," they said. "To understand one another is the first step in becoming friends and partners."
Bishop Laurie Skow-Anderson of the Evangelical Lutheran Church in America's Northwest Synod of Wisconsin, stands by Luther Point in its decision to rent space to the Muslim American Society.
"Jesus teaches that the greatest commandment is to love God and to love our neighbor as ourselves," she said. The ELCA released the Inter-Religious Policy Statement.
The document applauds Lutheran ministries, like the one at Luther Point, that participate in inter-religious activities and says the church needs to strive to do more. These efforts "build mutual understanding and advance the common good.''
The ELCA document, which was drafted in 2017 and has been reviewed and worked on extensively since then, says Christians have a significant relationship with Jews and Muslims since all three world religions find their roots in Abraham. Followers of Islam trace their faith back to Ishmael, Abraham's son with his servant.
"Given this kinship, Lutherans have a responsibility to overcome stereotypes and misunderstandings of Muslims and Jews and to seek fuller understanding and cooperation," the document says.
Luther Point held their annual quilt auction on Sunday.
About 150 people of all ages attended the quilt auction. The crowd was larger this year than last, and the camp raised about $17,000 for its programs.
Hermann, a Grantsburg native, said going forward she plans to organize a Meet Your Muslim Neighbor event "so we can keep the understanding flowing."
She recalled the words of Dr. Martin Luther King Jr - "Darkness can't drive out the darkness. Only light can."