Over Thanksgiving weekend Burnett County and the whole state was hit with a massive snowstorm. Much of the North Midwest was hit by huge amounts of snow while surrounding areas were drowned by rain.
During that type of weather Burnett County Highway Department is keeping an eye on the situation happening on the local roads and highways. They are also keeping an eye on the storm not yet at their doorstep.
"The thing with that storm was the wind," Highway commissioner Mike Hoefs said. "That was the biggest factor with the snowstorm during Thanksgiving."
Hoefs stated it was basically a seven-day event across the county and said it was approximately 17% of the department's annual winter maintenance budget. The event cost the county about $69,000 and cost the state about $73,000, bringing the total for the storm to $142,000.
"That's a number people can comprehend because they often ask how much removal costs," Hoefs said. "One snow event costs $142,000."
He broke down costs for the Infrastructure meeting last week, 14 % of costs is for labor, 40% is for equipment and the remaining 36% is for materials.
The state costs are reimbursed by the Wisconsin DOT (Department of Transportation) after the state highways are maintained. Hoefs added throughout the storm the highway department plowed 106 miles of state highway and they need to use pure salt for treatment.
On county roads the highway department using a combination of beat juice brine and salt/sand depending on what the forecast calls for.
This storm was bad, but it was not nearly as bad as the 2013-14 winter according to members of the Infrastructure committee.
County Supervisor Duane Johnson said he plowed his driveway 13 times before Christmas that year. Then another committee member pointed out that the worst part of that winter came later in March and April.
That year the department was $350,000 over budget for the season and a total of $790,000 for the whole season, according to committee members.
Hoefs said the crews also keep an eye on the storm as it's happening.
"Our system is called DTN, it's pretty darn accurate," Hoefs said. DTN stands for Data Transmission Network, a private company out of Burnsville, Minn., that delivers real-time weather updates. "It's more accurate than the TV forecasts."
DTN is a subscription service and Hoefs said the department pays about $3,000 annually. Crew members can even get updates on their smartphones and getting up to date forecasts while in the truck.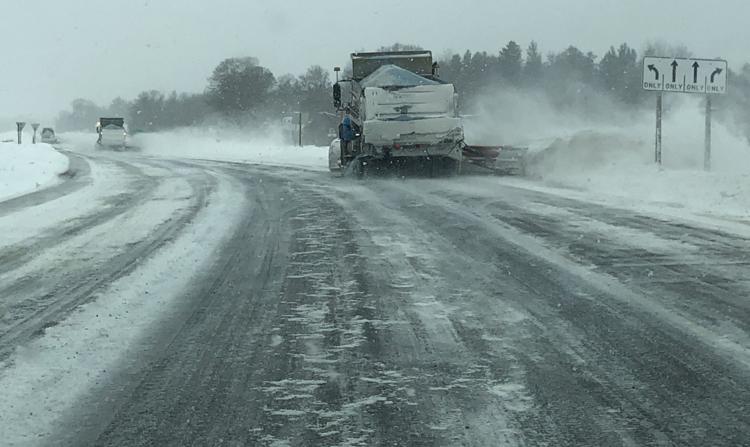 Committee members asked him if that information could be shared with local municipal crews responsible for plowing their town/village.
"Towns call us asking about conditions already during storms," Highway department shop foreman Scott Doornink told the board.
Hoefs added he would look into expanding access to the DTN account to give local municipal crews the ability to see up to date weather updates.