This year has been a challenge for schools for a plethora of reasons.
How will students attend classes during quarantine?
What extracurricular activities will continue and which ones will be canceled?
Now, the question is what will happen to the Holiday concerts and programs?
These programs are often staged in packed auditoriums and gymnasiums. Students of all ages show off their vocal skills and holiday spirit with songs about Rudolf the Red-Nosed Reindeer and Santa Claus.
This year will be different. The Sentinel reached out to all the school music departments in the county to figure out how they are handling the holiday concerts during COVID-19.
In Grantsburg, all upcoming in person concerts have been canceled.
Grantsburg's K-6 music teacher, Mary Arnold said this was true with their fall concerts as well as the Christmas concerts.
"Instead, the Nelson Primary and Grantsburg Elementary students have been working on songs in their individual classes," Arnold said. "These will then be recorded and the videos will be shared out with parents and families."
In Siren, the students will be having a similar pre-recorded program that will be shared on social media. Siren Band Director Bryn Anderson said they will not be having concerts but will attempt to have a virtual band.
"Each of my groups will be recording our Christmas music and putting it out on our District Facebook page," Anderson said. "If we can't be together to do a live performance we will possibly try to do a "virtual" band...have to figure all that out yet. This has been challenging but the kids are troopers!"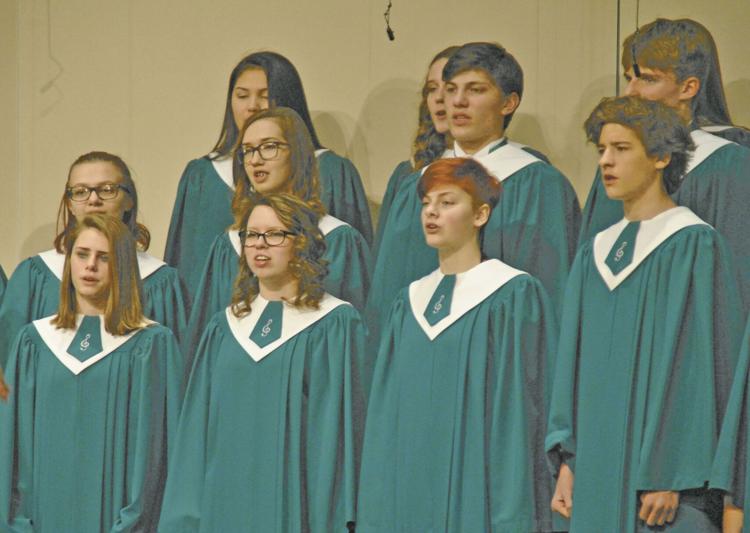 Webster is hoping to hold a Middle/High School concert Dec. 21, as long as in person learning is still happening. Webster music teacher Rachel Merkt said the students will perform socially distanced and in masks.
"We are tentatively planning on our middle school groups performing, distanced onstage and in masks, at 6:30 p.m.," Merkt said. "Then, we would clear the cafetorium for air exchange, and have our high school groups perform at 7:30 p.m. The audience will be asked to be spaced and limited in number, just like the policy for sports events this fall."
The elementary school students will be releasing a video of each class singing a song.
"For the elementary school, each class is preparing a song," Merkt said. "I am planning to record them in their music classes in two weeks, then compiling the videos into something we can premier using We Are Webster the day before we go on break, December 22."
The Grantsburg High School Concert will be similar to the Veterans Day program with it being sent out virtually.
"Students will be recording their performances during the school day which will be compiled into a virtual concert," said Paula Asmus, Grantsburg High School music teacher. Asmus said getting the entire choir in the auditorium would be impossible with social distancing, nonetheless any crowd.
"As much as we would love to have concerts in person right now, we are making the safety of our students and community a top priority," Asmus said. "We can't even fit the entire high school concert choir in the auditorium with social distancing requirements right now, let alone an audience! We are thankful for the opportunity to still get to make music in person right now as many schools around the country don't have that chance."
Arnold said she had recently finished recording all her music classes and the video will be shared later this month. Students were encouraged to dress up for the videos as that tends to be a highlight of the concert season.
"The students were invited to dress up as they would have in a normal concert, but it was not required," Arnold explained. "For many of them, that is their favorite part of the concert--being able to dress up."
Asmus explained this is a temporary set-back and that the community will hear the student's music once again.
"We are looking forward to getting to share our music with the community in person as soon as it is safe to do so," Asmus said.
Merkt summed up the experience saying it's all about remaining flexible.
"Long story short, we are trying to make some sort of performance opportunity possible, but I can tell you it was very stressful to suddenly go full virtual for the two weeks before Thanksgiving break and still hope to plan for these things," Merkt concluded. "Flexibility is the name of the game!"