The Crex Convention center was full of linen tablecloths with career professionals Monday afternoon as part of the Grantsburg High School Men of Tomorrow Luncheon.
Ten tables were filled with over 20 students and their respective professionals. There was a table for businessman another table for law enforcement, which was next to the table for students interested in joining the military, and other various tables for potential electricians and even wannabe biologists.
The students are asked to question the professionals they are sitting with. Susie Retzer, who organizes the event, calls it getting the good, bad and ugly from professionals in the students potential field.
"It's all about getting the students ready for the workplace and they get to ask as many questions they would like to ask of the professionals," Retzer said.
Retzer spends a lot of time getting to know the students to better understand what their preferred career path is and then fills the Crex Convention center with the proper professionals.
This year's keynote speaker was Dr. John Will, he is the president of Wisconsin Indianhead Technical Colleges. WITC has four campuses in Rice Lake, New Richmond, Superior and Ashland. They are also affiliated with SOFTEC based in Meenon across from the Burnett County Government Center.
Will talked about the national correlation between more school, in general, leading to earning more money in the workplace.
"You have a better chance of getting a job if you get more education," Will said. "Generally, people that have more education will have a higher earning capacity."
He said the average graduate from WITC earns over $38,000 right out of school. He added on average WITC graduates make over $70,000 five years removed from graduation.
"Now, it's not all about money," Will explained. "You also need to select a career path that interests you."
Will spoke about taking on student debt as well. He did so while not trying to push students away from traditional four-year degrees.
"Know what you expect to get from your education before you start taking on massive amounts of student debt," Will said. "This is very particular for certain four-year paths."
Earlier in the day, the junior boys were in Rice Lake at WITC for workplace manners and etiquette training. There they learned how to act in the workplace. They go over how to dress for an interview, including how to tie a tie.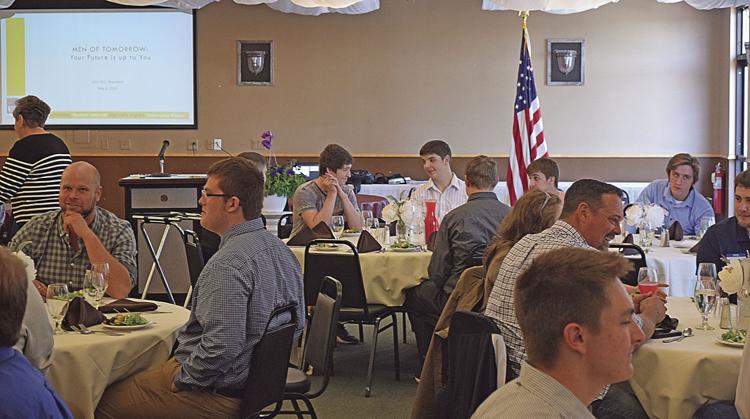 While in Rice Lake the students also learn about career paths based on their own personal interests. They learn about how to act at work at WITC then come to the Crex Convention center in Grantsburg for their meal.
"If the students eat with their hands, that is not WITC's fault," Retzer said jokingly.
The event includes door prizes provided by the event's sponsors – Subway, Northwest Wisconsin Electric Company and T-Dawgs Bar & Grill.