The Wisconsin DNR received over 200 submissions and Kaiya Davis, Grantsburg, was chosen as the second-place finalist amongst all fifth grade students. Their Keep Wildlife Wild poster contest is in its inaugural year.
She is in Ms. Hoefs fifth grade class and received a letter in March stating she was a top finisher.
Kaiya's mother, Thyra, is extremely proud of what her daughter has accomplished.
"I was blown away when I heard about it," Thyra said. "She was chosen second in the whole state. That made me extremely proud of her and her talents."
Kaiya's poster is split in two sides. The left side says "It can get to the water itself! You don't know what it eats," reads Kaiya's caption under big bold red letters stating, "Leave it."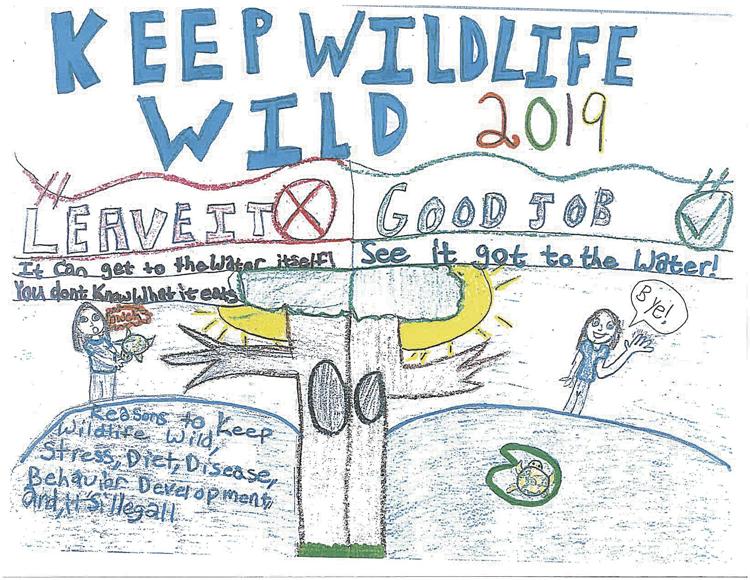 Kaiya describes a story of when her family had turtles and they had to let them go into the wild for a plethora of reasons. She is kind of an expert on turtles.
"We had turtles, but we had to let them go back into the wild," Kaiya says as she describes the left side of her poster. "Then that's me holding the turtle and it bit me."
Kaiya drew herself getting bit by the turtle and explained, "when you pick up a turtle (or any live animal) you never know if it's going to bite you, like a snapping turtle. They'll bite you, so it's best to leave them be."
It took her about two days to finish the poster. The guidelines for the posters was that they had to say "Keep Wildlife Wild 2019" and they had to list a number of reasons why wildlife should remain wild.
On Kaiya's poster, her reasons for keeping wildlife wild included its effect on animal's stress levels, their diet and possible disease. Her list ends with the ultimate reason, which is that it is illegal to remove some wildlife from its natural habitat.
The right side of the poster is another self-portrait of Kaiya and now she is waving bye to the turtle and at the top it says "Good Job" in bold blue letters. Underneath it states, "See it (the turtle) got to the water!"
Kaiya got 50 copies of the poster from the DNR and is in the process of delivering them to public places where it can be placed for display. There is one in the Sentinel's front window and Thyra has a plan for what to do with the remainder of them.
"I was thinking she could sign them all."