Two Grantsburg High School alumni are back for the summer to teach young kids all about science. The duo of Anneka Johnson and Kathryn Segner are both graduate students and have taken the first step to earn their Ph.D.'s.
Every Monday in June at the Grantsburg Library, there is an opportunity for children ages 9-13 to learn about science. They started the first class asking the students what their favorite animal is.
Next, they went into their experiment of acids and bases and their reactions. Ten students, with protective goggles on, tested different test subjects like vinegar, coffee and apple juice.
After the experiments, Johnson and Segner lead the class on a discussion. This is when the students figured out what they learned today.
Then came the mystery liquid. Random liquids were tested, and the students were asked if it was an acid, base or neutral depending on the reaction that occurred.
Other topics they will learn about this month include evidence of a chemical reaction and cleaning an oil spill.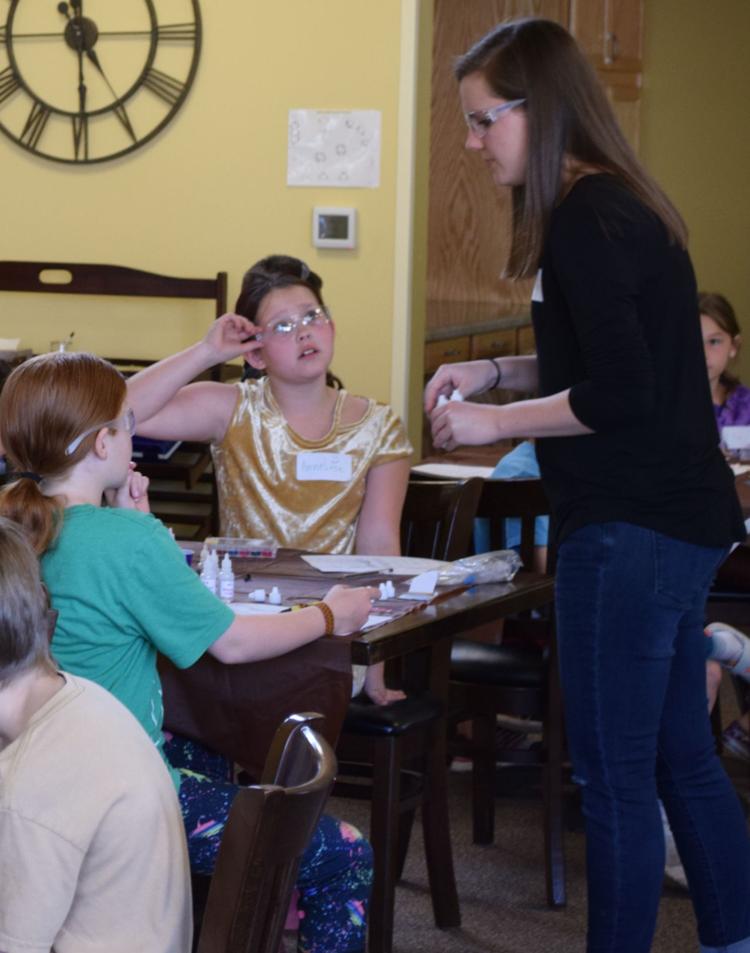 Segner is a Vanderbilt University graduate and has been accepted into the physical chemistry Ph.D. program at the University of Chicago. She helped develop the four-week program from similar experiments she did in college.
"We reworked and modified the experiments for this age group," Segner said.
Johnson is a graduate of UW-Eau Claire and is in the Ph.D. program in the molecular biology program at Dartmouth College.
Both are very comfortable teaching because they both have experience. Johnson had an academic internship where she served as a teaching assistant (TA) for a chemistry lab for undergraduate students. Segner used to teach summer school in Grantsburg, has experience tutoring undergrads and has led a similar class for eighth-graders.
"We're excited to bring science to this small community," Johnson explained. "It's nice to come back here and teach these kids about science. It's good to give back to the community."
Segner added, "it's important to teach these kids when they're young about science."
June 3 was their first class and both Johnson and Segner said it went well. They will continue to have Science in the Summer classes every Monday in June. Next week, they will ask the students what their favorite type of science is.
One of the students immediately said their favorite science is DNA. Another student surprisingly announced they were interested in pathology. They seem to be more than ready for that conversation next week.
Then the experiment will revolve around diffusion and osmosis.
The classes are free; however, pre-registration is required at