GRANTSBURG – "Food is available without charge for persons and families in need."
That's the message from Grantsburg Area Food Shelf, which opens at 9:30 every Thursday morning to assist those who need supplemental food during these challenging days.
Terri Andersen is the Grantsburg food shelf manager, in her ninth year in the lead role. She is a volunteer and is assisted by volunteers from nine nearby churches and one friends group that provide food, financial help and labor to run the food shelf. The food shelf has been operating non-stop for more than 27 years.
"We are now seeing about ten new families every week, so I would say the need is up by about 40 percent," Andersen said.
Besides the churches, donations of food and money come in from area businesses and their employees, schools, civic groups, and many individuals.
First-time clients fill out some paperwork and learn the guidelines. Generally, the Grantsburg food shelf serves people who reside in the Grantsburg School District. Eligibility is based on the federal income guidelines. Each family unit may visit the food shelf two times per month.
"Under the circumstances, those three rules may be relaxed a bit," Andersen says. "We still need to do all our reports, but we aren't going to turn away anyone who needs food."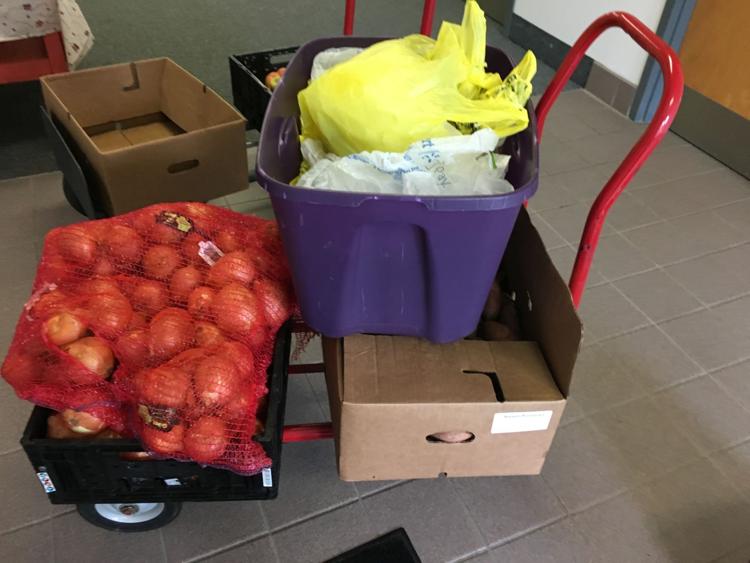 Those who need emergency food at any time may also visit the "Little Free Pantry," a self-service box by the Grantsburg Library main entrance.
Andersen said getting fresh eggs and bread are more difficult now, but clients can expect to leave the food shelf with packaged and canned goods, cheese, some frozen items including meat, other high-protein items like beans, plus fresh fruit and vegetables, and a voucher they bring to KJ's Fresh Market (former Family Food) in Grantsburg for a gallon of milk.
As the national stay-at-home plan and social distancing orders enter their second month, "food insecurity" has become a concern in many homes.
Families that were self-sufficient until recently may now be struggling to provide enough food for parents and kids who are home all day, Andersen said.
"One or both parents may now be out of work, with no clear picture for when the businesses will reopen, and the governor's general shutdown will end. Even when it does end, people who have been without work for a month will need to regroup. Some will get unemployment, but others will be barely paying their bills. They will still need supplemental food. We are planning to be ready for that need," Andersen said. "It will probably take them six months to recoup," she said.
Andersen added she has a crew of trained volunteer workers and doesn't need any more at this time. The food shelf operates out of only 133 square feet in the Grantsburg Village Center. "Three of us working is best, and that's all the help we have room for," Andersen said.
New procedures, precautions
Some new procedures are in place on Thursdays during the COVID-19 pandemic.
"First, we ask clients to wait outside or in their cars to maintain the social distance, instead of lining up inside the building. "If they are new, we will bring the paperwork out to them on a clipboard.
"If you have a mask, please wear it," Andersen said, adding that the volunteer workers all wear gloves and masks.
As each client is invited into the building, they apply gel disinfectant to their hands.
When a client enters the food shelf, they work with a personal shopper volunteer who takes the requested food items off the shelf and loads the client's cart. During the pandemic, only the gloved personal shoppers touch the food.
Folk who prefer not to leave home or have no transportation may call Terri Andersen between 9 a.m. and 3 p.m. to make arrangements for a home delivery. Her cell number is 320-298-2863.
Anyone willing to volunteer as a food delivery driver (within the Grantsburg School District) may also call Terri at that number.
Steve Briggs is Secretary/Treasurer for the Grantsburg Area Food Shelf Board of Directors.