She radiates energy, flashes a brilliant smile and exudes confidence. That's Tiffany Fesenmaier, the 2018 - 2019 president of the Burnett County Tourism Coalition(BCTC). She took the reins of BCTC last October.
A native of Minnesota, Fesenmaier attended Northwestern College with studies in sociology and youth ministries and has a background in restaurant marketing and retail sales. Now she's brought her energy, experience and skills to Danbury where she and partner, Linda Anderson, own a gift shop and embroidery business.
"We've had a cabin in Webb Lake for over 20 years. We decided that when we retire, we would retire up here. This store, formerly Homestead Embroidery and Gifts, was available for sale, and I thought, 'you know, this would be a fun thing to do while I'm up here.' So we bought it and renamed it 'The Cabin Corner.'"
Her career includes working for Texas Roadhouse, a national restaurant chain. It was a very people-oriented marketing strategy. She explained, "Texas Roadhouse doesn't advertise. It's about building relationships in the community, doing a lot of donations and benefits, bringing our food around to different stores." Before that, she worked in marketing for Carlson Travel Company.
Building relationships is a core principle Fesenmaier returns to again and again. She wants BCTC to focus on building relationships with the people, companies and businesses in Burnett County. "One of the things I noticed when I got here was that there wasn't much togetherness throughout the different businesses and companies in Burnett County."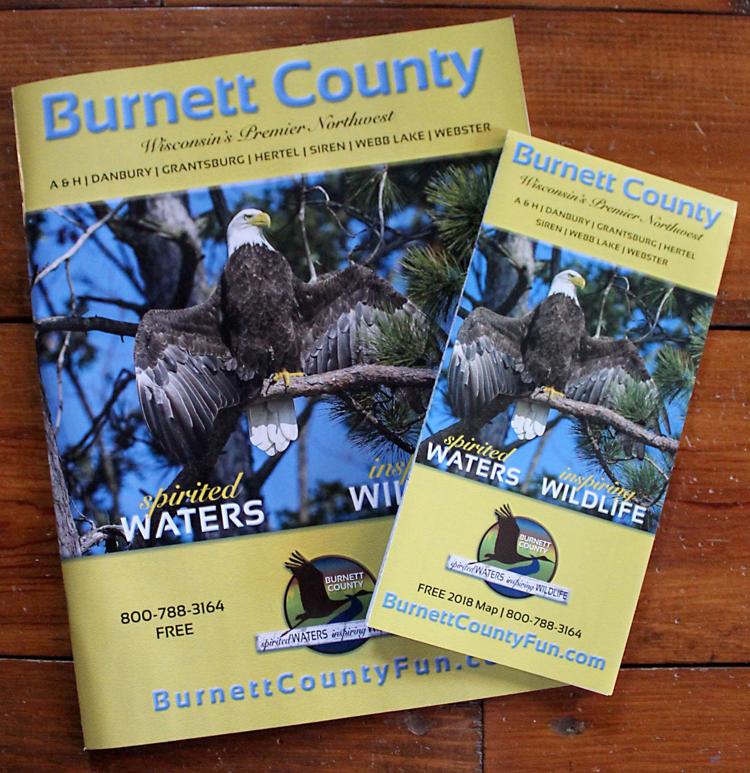 She continued, "There seem to be a lot of different competitions in this small area instead of supporting one another. I thought, 'that's going to be a challenge because of my background of working with building relationships.' I said right from the beginning to my staff and colleagues that I want us to be a role model of supporting one another.
Fesenmaier admits she has much to learn about tourism and BCTC, something she says she shares with area residents and business owners. "At first, I didn't know a lot about it. I think that's one of the big issues concerning BCTC: many businesses and people in this area don't know what the tourism group is about. They don't know how it can benefit them. Now that I'm learning more and more, I'm amazed at what BCTC does have to offer.
"As a business owner, I want to be a part of that to increase the [tourism] business in this area. The only way we can do that is by getting out there, meeting people, and letting people know who we are, what we are about, and how we are going to benefit them as a business, cabin owner, or somebody who's just visiting. How is BCTC going to be beneficial to you?" she said.
To that end, Fesenmaier's first goal is to become informed, so she will attend the Wisconsin Governor's Conference on Tourism March 11-13 in Appleton. She said, "I can't be a leader without being informed." Her second goal is to educate the community about BCTC, "who we are, what we do and what businesses can do to increase tourism here. I want people to know how the area benefits from having BCTC. Those are the goals I want to accomplish."
When asked what the number one thing businesses and people can do to generate return visits she was emphatic: "The number one thing any company or business can do is build relationships: within your community, with the people who come to your business, with people who visit, with business owners.
"When people come into my store, my first and most important thing is to build relationships, because they're only coming back because of that. Otherwise, I won't have people talking about that my store was a great place to be. For me, that is the key to any successful business."
As Fesenmaier prepares to open The Cabin Corner in spring, she'll also lead BCTC forward to accomplish the goals she's set. "I'm just really excited about BCTC, the people who are on the board now, and what the next two years hold for us: watching us grow and develop, bringing new energy to the group." She welcomes anyone interested in being active with BCTC. Contact her: fesenmaiert@gmail.com.