Hundreds of community members and first responders from across the state came to the Pine City Civic Center on Friday, April 26, to pay their last respects to Pine City's DNR Conservation Officer Eugene Wynn.
Wynn was killed and a Pine County deputy hospitalized after the two men were thrown from their boat while searching Cross Lake April 19.
Main Street was lined with Patriot Riders bearing flags, and the Pine City Fire Department positioned two ladder trucks to hold an American flag suspended over the street just north of the civic center.
Wynn was 43 years old and an 18-year veteran of the Minnesota Department of Natural Resources. He is survived by his wife, Pine County Judge, Heather Wynn and their two young children, a daughter and a son.
Officers filled the bleachers and the floor of the civic center, rows upon rows of uniformed men and women wearing tan, brown, green, white, blue and red. They were joined by hundreds of civilians – family, friends and supporters – each carrying a blue and white rose with a card attached saying, "Forever in our Hearts. Blessed are the Peacemakers," with Wynn's badge number: K297.
They were joined too by Pine City officials, who declared April 26 "Conservation Officer Eugene Wynn Memorial Day" in Pine City, and by Minnesota Governor Tim Walz, who ordered that all flags be flown at half-staff across the state.
"Conservation Officer Wynn was an outstanding Conservation Officer, who was admired and respected by his colleagues, and served with dignity and pride," read the proclamation issued by Governor Walz. "The State of Minnesota recognizes Conservation Officer Wynn for his dedicated service to, and sacrifice for, his fellow citizens with its deepest gratitude, and all thoughts and prayers are with his family, friends and entire community."
At noon, more than 150 DNR conservation officers silently filed in, each holding their tan hat under their left arm and a blue rose in their right and took their seats on the civic center floor.
Wynn is the 22nd Minnesota Conservation Officer to die in the line of duty.
DNR Colonel Rodmen Smith spoke about the dedication of Wynn and other first responders to serving their communities.
"These men and women are community servants always," Smith said. "It's how they live their lives. It's how they raise their families."
Smith said that when tragedy strikes, it's easy to remember the uniform the person wore.
"But uniforms don't serve their communities," he said. "Uniforms don't save people. And uniforms don't die.
"We need to remember that Conservation Officer Eugene Wynn was a conservation officer second," Smith said. "He was a husband, father, son and friend first."
He spoke about Wynn's love for the outdoors, which led him to a career as a conservation officer – first in Wisconsin, then Minnesota. And he spoke of Wynn's dedication to his family.
"Gene, like so many parents, was a hero ... an ordinary, everyday hero," Smith said. "A parent's time with their kids is priceless, no matter how mundane or routine. True hero's work.
"The Wynn family is an integral part of this community. That has shown in this past week. Community members and local businesses have come together to offer whatever they can. Everyone wants to pitch in. Everyone wants to help. Everyone wants to give back.
"We don't go it alone," Smith added. "We all walk side by side through life with family, friends and those in our community.
"Gene – and all of us, cannot be defined by a uniform that we wear. We are defined by how we live our lives. Gene defined his life. Gene, we will miss you, but you've given us some treasured memories. The mark you left on all of us will never be forgotten. And that will make all of us better spouses, better parents, better children, better friends and better community members."
Wynn's friend Ryan Noll spoke about the competitive drive, and the talent that made Wynn an athletic star during his schooldays. As boys, the two bonded over their love for the outdoors.
"We spent countless hours in the woods and on the water together," Noll said. "It didn't matter what we were after."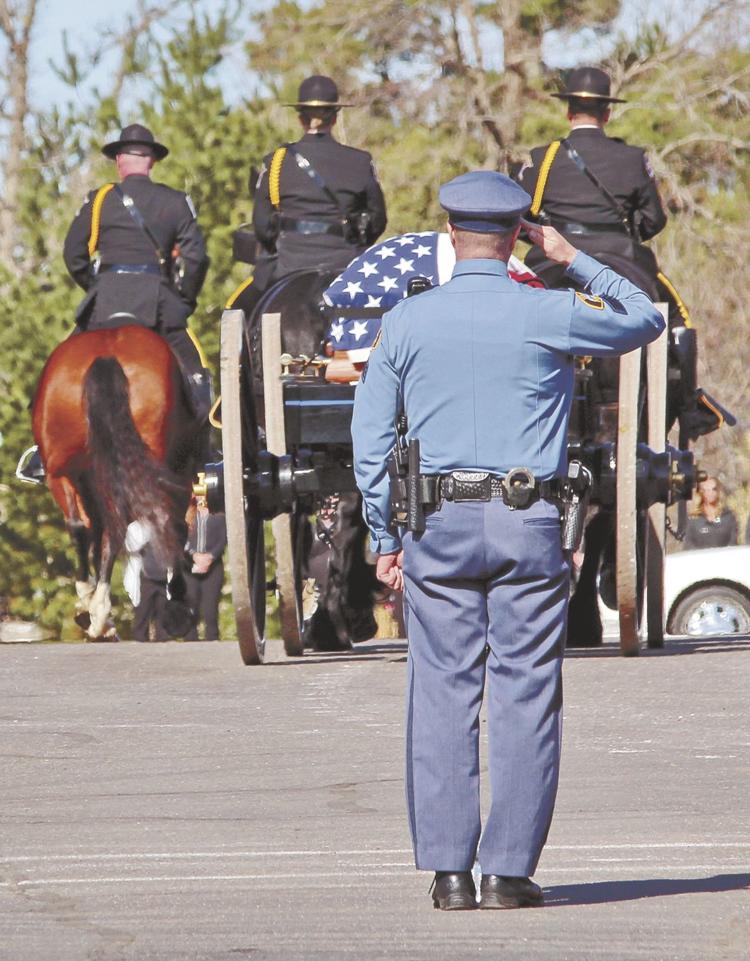 Sometimes they would get up early to go hunting before school.
"I'll never forget the morning I shot my first buck with a bow," he said. "Unfortunately, it wasn't the best hit. Luckily, he was there to help me find it, but it took almost all day to do so. My parents were so mad to find out we didn't make it to school that day. It was worth it."
He said Wynn was working one summer as a park ranger when he found someone very special.
"He met the love of his life – Heather. Her huge heart and the patience of a saint was a perfect fit for him. Eugene was so proud of her.
"I'll never forget when he called to tell me that Heather had been appointed to be a judge," Noll said. "We were all so happy for her, especially Gene."
Noll spoke about spending time with each others families and wanting to pass the love of the outdoors to the next generation.
"As I pushed Heather and Eugene's son on the swing last Sunday, EJ reminded me that his dad was a hero ... just like the two officers who were protecting us at the end of the driveway were heroes too. He was right. All of you who risk your lives every day for us are heroes.
"To Sophie and EJ, please know that nothing was more important to your dad than you two. He loved you more than anything on this earth. If you ever need a fishing buddy, or want to hear stories about your dad, I'm always here.
"Please keep Eugene's family and friends in your prayers," he told those gathered April 26. "No words can describe how much he will be missed."
After playing an instrumental version of the song "Ashokan Farewell" recorded by Heather Wynn and Michele Anderson, pastor Tim Adams of Journey North Church spoke about providing comfort to Wynn's family in Pine City, and also his law enforcement family.
He said there has been an outpouring of love, support and respect for Wynn this past week.
"I have to say I'm proud of Pine City coming together in so many different ways," Adams said. "Eugene was very well loved. He was an absolutely amazing man.
"There are people here today who are alive because of Eugene," Adams said. "Like many here today ... he would run toward what others would run from. He was a good man, a good husband and a good father."
Adams said that Wynn felt a connection to the creator most strongly when he was out in creation.
"There is no greater love than this, to lay down your life for your friends," Adams said, quoting from the New Testament. "That describes Eugene."
He noted that Wynn's death came on Good Friday.
"That was a day someone else gave their life for others," Adams said. "But that wasn't the end of the story. God excels at bringing good out of tragedy."
Outside the civic center, officers and civilians stood silently in rows under the bright April sun.
The wind whipped at the flags held aloft by more than a dozen color guard units from law enforcement and other agencies around Minnesota.
Over the auditorium loudspeakers came a message:
"This is the last call for Officer K297."
That message was repeated twice more.
"Last call for Officer K297. Last call for Officer K297."
Then, after a pause, the speaker resumed.
"End of watch for Officer K297. We thank you for your 18 years of service. Rest easy, sir."
Bagpipes of the Minnesota Police Pipe Band played "Amazing Grace" as officers saluted. A bell was rung 18 times for Wynn's 18 years of service
A 21-gun salute was fired for Wynn, and four DNR airplanes roared overhead. Then, Conservation Officer Eugene Wynn was taken to his final resting place.