GOVERNMENT CENTER––Burnett County Forest and Parks Department has completed their camper cabin and it has successfully been delivered to it's home in the Town of Roosevelt.
Forest Administrator Jake Nichols gave a presentation on the completed camper cabin to the Natural Resources committee last week.
He explained the project started with Forest and Parks staff members, Kari Letch, Tory Jeske and Susan Tollander, presenting the idea to the Administration committee last August as part of the Leadership through Effective and Efficient Designs, (LEEDS), program.
They initially asked to have two camper cabins built at a cost of around $20,000. There is a similar program in Bayfield County, however they have built yurts instead of a one-room cabin.
The committee approved one cabin and said they may build a second or a third in the future.
Roosevelt's camper cabin is only accessible by foot, snowshoe, skis or fat tire bike. There is also no running water or electricity and there is a wood stove for heat in the winter.
"The guests are also asked to follow the "leave no trace" camping principle and take all their trash with them along with anything else they have brought to the cabin," Nichols explained.
He continued to explain how Jeske with help from Letch and Tollander built the cabin inside the highway shop over the winter. It was built on skids to make it easier to move and relocate.
The cabin is 10' by 24' with two full size beds and bunk beds twin sized, so it sleeps six comfortably, according to Nichols.
Jeske also built a tabletop, counter top and a couple of benches for outside the cabin.
"And we didn't forget the outhouse, they put that together last," Nichols said.
The cabin was moved outside in May for it to be stained, once they had a couple sunshine days in a row it was stained. Then came the moving process.
"In July we started the moving process. It had to be delayed a while after all the rain we received this spring," Nichols said. "With the help of the Highway Department equipment we were able to load it up and get it to Roosevelt."
It took some maneuvering but they did get it in position.
Supervisor Gene Olson asked Nichols if the camper cabin will have any effect on area resorts or hotels.
"It's got a pit toilet, no running water and no electricity," Nichols said. "There is a specific type of camper that will be staying out there."
The camper cabin went live on Airbnb in August and has already had a number of reservations.
Initially the camper cabin was estimated to be built for about $20,000 including staff labor costs. It ended up costing around $17,000 with another $7,000 factored in for staff time. Nichols said the total costs comes in just under $24,500.
He also gave the committee projected revenue numbers.
"We are charging $60 a night and we've included if the cabin is rented 25, 45 and 60 percent of the year," Nichols said.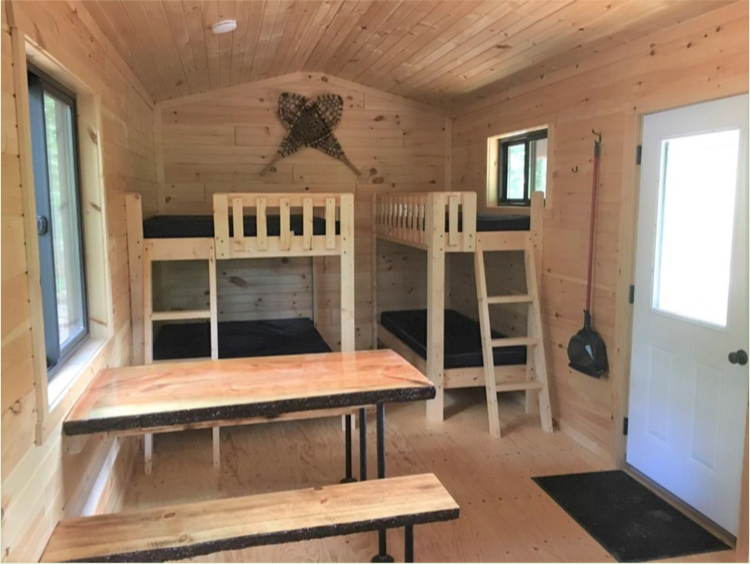 The following totals include all extra fees, such as annual lodging license and the 3% Airbnb charge.
They expect the revenue will be just under $5,000 if the cabin is filled 25% or 91 nights of the year, 45%, 164 nights, revenue will be just over $9,000 and if it is rented 60% of the year or 219 nights they will bring in over $12,000 in revenue.
20% of revenue will be going to Cumberland Area Ski Trails Association (CASTA) because they will be helping to manage the site. This includes making sure the cabin has firewood and keeping the trail open in the winter.
All reservations are made online and the department expects to get their return on investment in a little over two years.