GRANTSBURG–Dr. Joni Burgin was presented the Paul Harris Fellowship recognition at the Grantsburg Rotary Club meeting July 9.
The ceremony began with Dr. Steve Bont explaining a little about what the Paul Harris Fellowship is. Paul Harris was the man who founded Rotary with three other business associates in Chicago in 1905. The Fellowship was established in his honor in 1957. It was established to express appreciation for a contribution of $1,000 to the Humanitarian and Educational programs of the Rotary Foundation. Bont said, "We move closer to a more peaceful world today as Dr. Joni Burgin becomes a Paul Harris Fellow."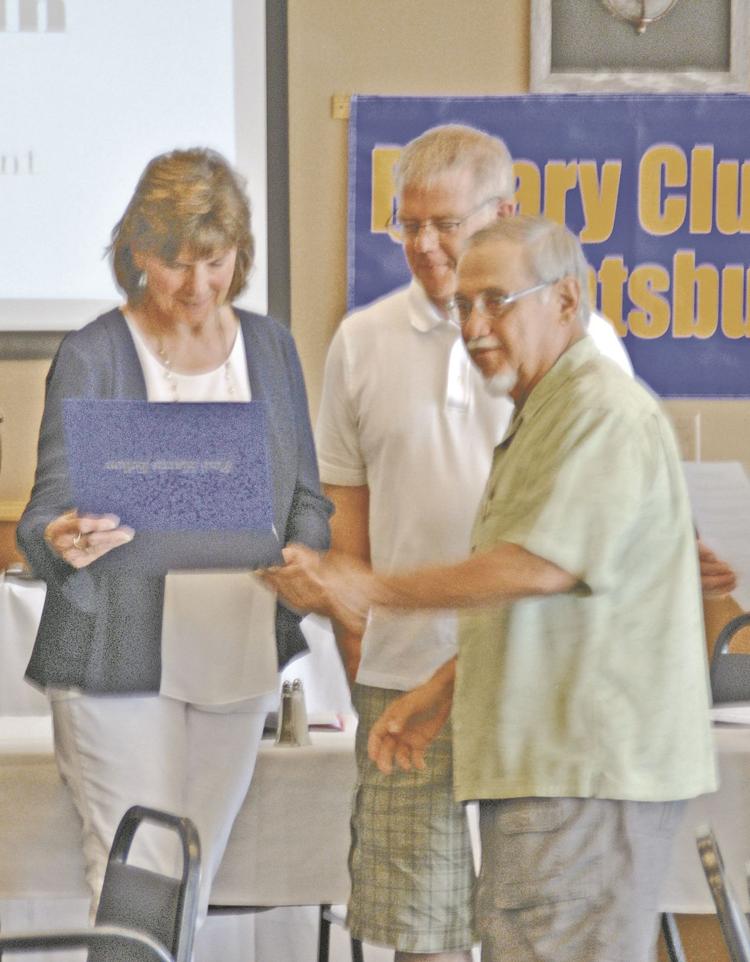 Joshua Watt, the new Grantsburg School District's Superintendent, gave the introduction for Burgin. Watt had a lot of very good things to say about Burgin and how she has helped the school district and her community. He said, "Due to Joni's outstanding leadership, the Grantsburg School District consistently raised its academic profile." She understood that in order to achieve greatness in academics, they need to understand people, because schools serve people first.
"That's a strength that Dr. Burgin brought to the Grantsburg School District that we really focus on people and that's going to be a part of her legacy and the legacy of Grantsburg schools."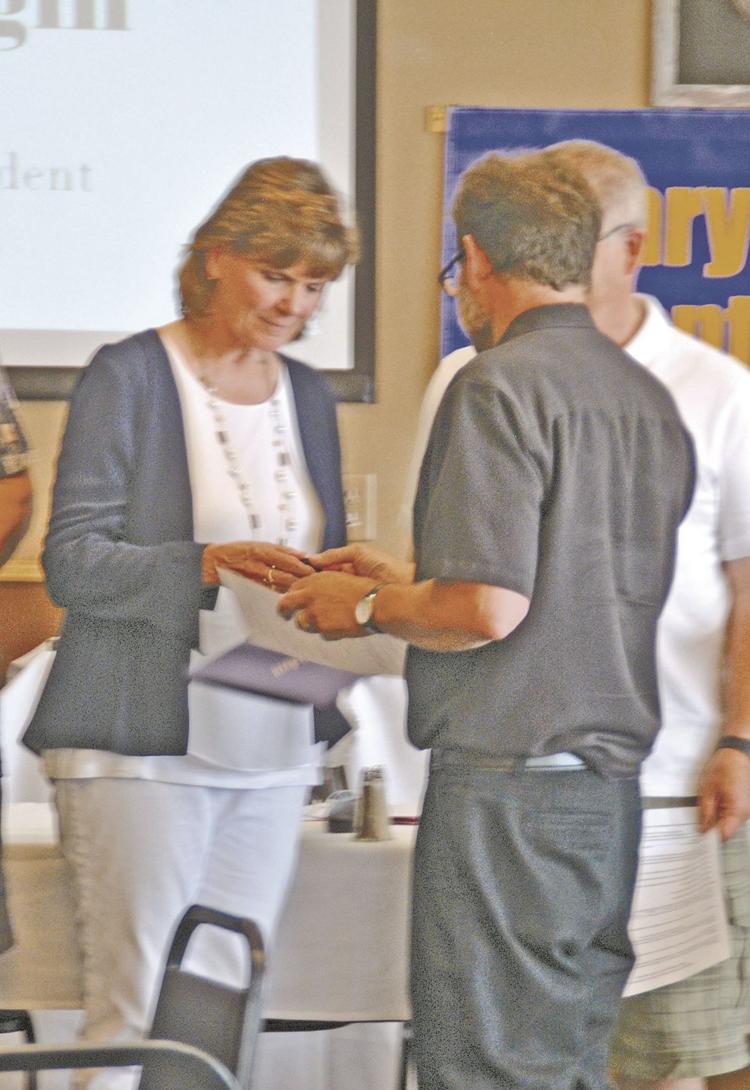 Watt went on to say that because of that contribution, the district has regularly earned Exceeds Expectations on the district report card and has earned several awards like Advanced Placement Honor Roll, the AP Pacesetter awards and eight US News and World Reports Best High School awards. Burgin also led the school district in many community and facility projects such as building the middle school, remodeling the elementary and high school buildings, opening the iForward Online Charter School, renovating the football and track fields, building the ball fields and she was the co-creator of Faculty Follies, a fundraiser to raise money for senior scholarships.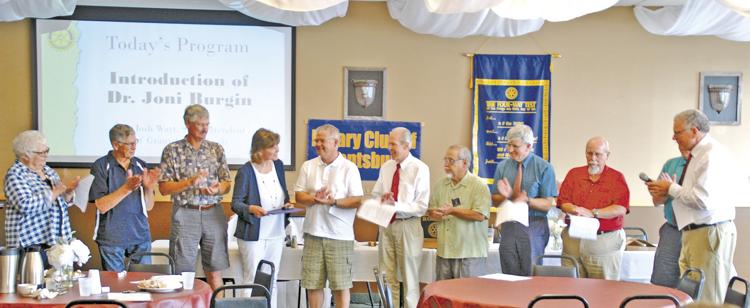 Watt said that what he admired most about Burgin's leadership was her investment in people. "By instilling a culture of putting people first and caring about students and staff… her commitment to people is something that will be an enduring value and remembrance of her."
Before Burgin got up to say her speech, some of the Rotary Club Members stood together with her, gave a speech and presented her with the certificate and pin.
Burgin began her speech by saying memories that she had with some of the Rotarians and thanking all of them for their contributions to the school district over the years. Burgin stated that the most significant thing that had happened to her with the school district was the development of the virtual school, iForward. She said, "We have over 100 grads per year, it's a big celebration day for us, a lot of them have a lot of learning barriers, they cross that stage with anxiety issues or teen parents, some of them are top end honor students, but it's 100 students per year that have not found what they needed in traditional brick and mortar." It also provides a lot more variety in classes that cannot be found in traditional schooling such as aviation classes, Russian, engineering and advanced placement classes.
Bont had asked Burgin to speak about a few of the things she has learned over the years. She said one of the things she has learned is that we are to love our people. She said, "Those that we lead, we serve, and the people around us deserve our care and attention." We need to contribute to be kind, honest, patient, apologize, forgive, ask to be forgiven and thank people. Burgin also learned the importance of innovation. "We need dreamers and we need people that are willing to take calculated risks in trying new things, we need to encourage our staff to dream and create, build and design, because they are going to have the ideas before I do. The idea people make things happen."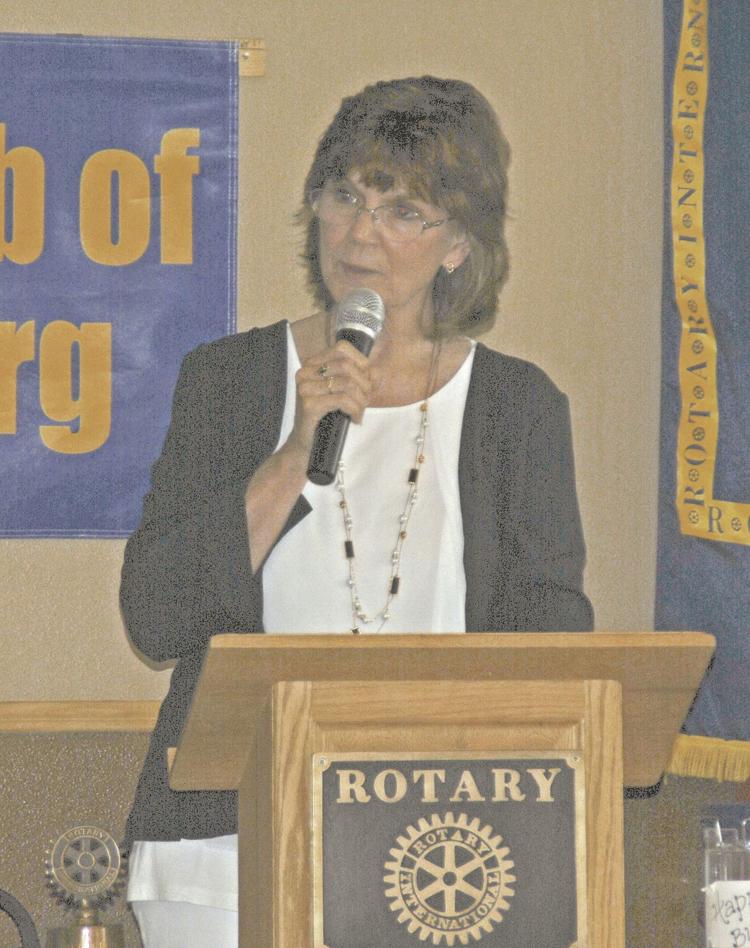 Burgin ended her speech by telling the Rotary Club what she tells the staff every year when they leave. She tells them that educators are in the business of building hopes and dreams in young people and that there's no finer or noble work than helping them realize their dreams. "We never know the result of investing one's heart and soul in a student, together we plant important seeds in the lives of kids. The work takes faith, energy and love, and although we may not be able to see immediate results, it's the hard work that makes a difference and eventually it shows up."