WEBSTER–– Benson Ace Hardware, with locations in Webster and Frederic, has established an annual scholarship program for Webster and Frederic high school seniors. Each year, beginning with the Class of 2020, Benson ACE Helpful Place Scholarships will present $500 scholarships to two Webster seniors and two Frederic seniors.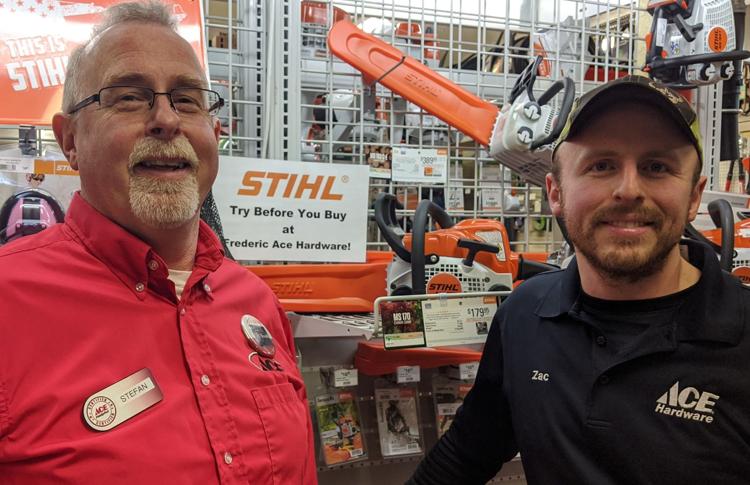 Stefan and Zac Benson, father and son, are Webster High School graduates who want to encourage area seniors considering a career in the trades. To help support the education of any student considering a skilled profession, Benson Ace Hardware will award the scholarships by drawing names from completed applications. Eligibility requirements are a grade point average 2.5 or higher, and plans to attend a technical/trade school, or work as an intern/apprentice with an employer in trades like HVAC, plumbing, electrical, engine/auto repair, welding or construction.
"We decided to award the scholarships by drawing names because we believe success is possible for anyone with hard work and a can-do attitude, along with some prayerful thought and a little bit of luck," said Stefan Benson. "We look forward to awarding our first scholarships and helping support the next generation of students pursuing careers in the trades."
Interested seniors can obtain an application from the Webster or Frederic counseling office, or online at benson-ace.com. Applications are due no later than April 1, 2020. Recipients will be recognized during the schools' annual awards night events held during May. Scholarship checks will be issued to recipients following 90 days of confirmed technical/trade school attendance, or 90 days of confirmed employment as an intern or apprentice.
Benson Ace Hardware in Webster is the continuation of a hardware business established in 1967. Stefan and Deb Benson, who returned to the area from the Twin Cities to raise their family, purchased the business in 2002. In 2015, the Bensons purchased a building south of downtown Frederic and, with help from Zac, Benson Ace general manager, opened the second location.
Benson Ace full-service hardware stores serve local skilled professionals and home do-it-yourselfers, along with offering utility vehicles, power equipment, rental equipment and small engine repair.